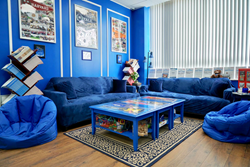 Where Great Students Become Remarkable
NEW YORK (PRWEB) October 04, 2019
Kweller Prep, an established supplemental education company specializing in advanced test preparation for students grades 3-12, has announced its expansion to two new locations: a 2,500 square foot space in Midtown, Manhattan (370 Lexington Avenue, Suite 605) and a 6,200 square foot school-zoned unit in the heart of Forest Hills, Queens (108-22 Queens Boulevard), both conveniently located closer to public transit to ensure the highest level of service to its students and the community.
The flagship Queens location has set the model for the Kweller brand. Shepherded by Kweller Prep founder and attorney-at-law Frances Kweller, the new location is a concierge-style, customized community learning center with bespoke amenities, providing an experience that raises the bar for New York City's high achieving students. The new concierge-style experience, coupled with Kweller Prep's high academic standards and specialized high school success rates has brought an influx of new business, as the new location doubled its student body size from the previous year. Kweller Prep's new Manhattan location offers four 10-12 student classrooms, an inviting waiting area, pantry, and central air-conditioning as well.
The Kweller Prep academic experience includes:
Ten comfortably-sized classrooms designed for 10-12 students per class to ensure an academically intimate setting for more focused and exclusive instruction at all times.
Competitive middle school, specialized/screened high school and top college entrance exam preparation and parent workshops on navigating the admissions process.
Private tutoring by high achieving college or graduate students who have themselves placed into specialized and screened high schools and are now students in top college honors and scholarship programs,
Multilingual parent workshops and trained support staff who can serve as translators for families as they apply to top schools,
Free workshops on navigating middle school, high school and college admissions, understanding financial aid and scholarships for college,
Coordinated college campus tours of Ivy League and local top colleges, including those offering BS/MD dual degree programs,
Coordinated Specialized and Screened NYC High School Tours.
Kweller Prep's bespoke family-style experience includes:
A warm and inviting living room-style waiting area painted in a vibrant, deep royal blue, which provides a stimulating environment for students to learn.
Cobalt blue velvet sofas arranged for students to visit and rest between sessions.
Bold College pennants and costumed mascots of over 50 top colleges, universities and Ivy League schools, peppered throughout.
Refreshments and snacks including Kosher and Vegetarian options, sourced from local businesses to support the community.
Exclusive promotions,deals and offers from local businesses to help students and families benefit from the products and services the community serves.
Handicap accessible bathroom amenities.
A waiting area with high school directories and educational board games.
The new expansion is married with new course offerings. Along with ELA, Math, ISEE, TACHS, Bard, HSPT, SHSAT, PSAT, SAT, ACT, AP, IB, and SAT-2 prep courses, Kweller Prep will be adding graduate school entrance exam classes, including courses for the LSAT, MCAT, DAT, GRE, GMAT, and the New York State Bar Exam.
Language learning classes such as Hebrew, Spanish, English and Chinese lessons will also be available. Kweller Prep will also offer adult students the opportunity to become certified in specialty areas, including real estate licensing and notary public.
"Kweller Prep was built from a dream to help students navigate tough entrances into excellent schools through hard work and merit, opening doors of opportunity for the next generation," says Frances Kweller, attorney at law and founder of Kweller Prep. "I am extremely grateful to work with the community that has developed here. As a child of immigrants who later became a NYS attorney, I'm honored to have the chance to help others get to the next level of their academic career.
Kweller Prep offers intensive study classes, which include long and short term fall, spring, and summer programs. Tuition includes all textbooks, materials, and supplies. A limited number of student scholarships are available and Kweller Prep is open to corporate sponsorships of all kinds. The company publishes its own books and materials. As of May 2019, there are twenty of the company's textbooks available on Amazon.
For more information on the Kweller Prep program and to sign up for classes, visit: KwellerPrep.com.
About Kweller Prep
Kweller Prep is an accelerated education program with a 15-year record of success in preparing students for top specialized middle-school, high-school, and college entrance. With thousands of acceptances to New York City specialized high schools and top colleges, Kweller Prep has built a time-tested method with unsurpassed performance. Their rigorous program is designed to help ambitious students excel.
Tutoring centers in Queens and Manhattan serve as learning incubators where parents, students, teachers, tutors, and counselors alike can learn from one another and grow. Nearly every tutor at Kweller Prep is the first one in his or her family to attend a Specialized High School or top university on a scholarship.