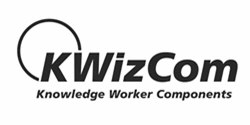 "List Aggregator SPFx web part is a unique web part to get data from multiple lists from different site collections in SharePoint. Loved the number of features available in this SPFx web part!" MVP Bijay Kumar
TORONTO (PRWEB) July 10, 2019
KWizCom, a leading developer of SharePoint Forms & Workflows, as well as multiple other powerful SharePoint web parts, add-ons and apps for Office 365 (SharePoint Online) announced their plans to air a new webinar entitled "Complex Data Aggregation Made Simple". The webinar will be led by SharePoint Expert, MVP, a technology writer and speaker from India Bijay Kumar Sahoo.
In this webinar, Bijay Kumar will demonstrate the simplest and most flexible way to aggregate data from across sites and site collections into a single, great-looking and customizable view. Bijay will advise on the most powerful, user-friendly and yet simple way to thoroughly aggregate, manage & export data.
SharePoint Online users are encouraged to register for this webinar to see real life examples on how KWizCom's List Aggregator App assists non-technical business users by putting the power of data aggregation in their hands.
The webinar will air live on Thursday, August 1st at 2pm EST. The webinar recording will be available on demand within 1-2 business days. To register for the above-mentioned webinar, please visit http://www.kwizcom.com/company/webinars/ .
Bijay is a Microsoft MVP (Office Servers & Services) and has over 11 years of experience in Microsoft Technologies specializing in SharePoint. He is the Co-founder of TSInfo Technologies, a SharePoint consulting, training & development company in Bangalore, India. He has been a technology writer for many years and writes many SharePoint articles on his websites SharePointSky.com and EnjoySharePoint.com. Bijaya is a passionate individual who loves public speaking, blogging and training others to use Microsoft products.
For more information on KWizCom Corporation and the company's 70+ SharePoint add-ons and apps for Office 365, visit the company's website indicated below.
Follow KWizCom on Twitter https://www.twitter.com/KWizCom
Become a fan of KWizCom on Facebook: https://www.facebook.com/KWizCom
Join KWizCom on LinkedIn http://www.linkedin.com/company/kwizcom
Contact a KWizCom Account Specialist at +1-905-370-0333/+1-855-KWIZCOM or info@kwizcom.com