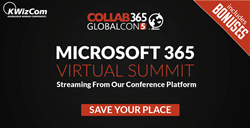 GlobalCon5 is the 5th Microsoft 365 global conference produced by the Collab365 Team since 2020. GlobalCon5 takes place over three days and will run on Collab365's custom-built conference platform specifically designed to provide a top-class experience for the thousands of attendees who will tune-in
TORONTO (PRWEB) February 24, 2021
KWizCom Corporation, a leading provider of SharePoint Forms & Workflows, as well as numerous other no-code SharePoint web parts and apps for Microsoft 365, announced they are a sponsor of the upcoming GlobalCon5 Microsoft 365 virtual conference taking place on March 16-18, 2021.
GlobalCon5 is the next free virtual summit dedicated to Microsoft 365 skills from Collab365. It's no-cost and is broadcast online so that everyone can watch it from wherever they are based.
"GlobalCon5 is the 5th Microsoft 365 global conference produced by the Collab365 Team since 2020. GlobalCon5 takes place over three days and will run on Collab365's custom-built conference platform specifically designed to provide a top-class experience for the thousands of attendees who will tune-in," advises Fraser Beadle, Collab365 Operations Manager. "Brand new to this event is the addition of half-day workshops delivered by World-Class experts. The workshops will be live, interactive, and teach you "must-know" topics such as Microsoft Teams governance/compliance and how to build a highly successful user-adoption campaign".
Not only it is free to attend, after - registration to the event from the provided link, one will also get the chance to choose from one of the following free eBooks:

Cool and Exciting Ways to Use Forms to Engage Users
Componentise your Power Apps
Transforming SharePoint Lists and Libraries with Power Apps
Become a SharePoint Online PowerShell Master
KWizCom along with the Collab365 Team invites SharePoint and Microsoft 365 users to join them and thousands of others at GlobalCon5 to learn Microsoft365 together.
By attending GlobalCon5 you will gain new skills around products like Microsoft 365, Microsoft Teams, and the Power Platform, see what the latest updates and changes are in the Microsoft 365 space and much more.
For more information on GlobalCon5 and to register to get a free ticket, please visit the - event's official webpage.
Follow KWizCom on Twitter @KWizCom
Become a fan of KWizCom on Facebook: https://www.facebook.com/KWizCom
Join KWizCom on LinkedIn http://www.linkedin.com/company/kwizcom
Contact a KWizCom Account Specialist at +1-905-370-0333/+1-855-KWIZCOM or info@kwizcom.com
About KWizCom Corporation
Since 2005, KWizCom has provided innovative solutions and services to make SharePoint even better for over 10,000 companies worldwide. KWizCom's solutions and services expand Microsoft SharePoint out-of-the-box capabilities, streamline workflow, maximize efficiency and enhance over-all productivity for hundreds of thousands of users. KWizCom, a Gold Certified Microsoft Partner, is headquartered in Toronto, Canada. Please visit http://www.kwizcom.com to find out more about KWizCom's clients, people, partners and solutions.