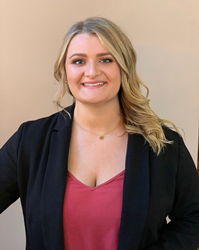 "I appreciate Daily Herald Suburban Business hosting a recognition program like this. Giving back to the communities, industries, and future generations is so important! I hope that other women feel inspired to go out and make an impact."
NAPERVILLE, Ill. (PRWEB) November 15, 2022
Daily Herald Suburban Business selected Kylie Knur, mission manager/social media manager for JJR Marketing, as one of 20 local women executives to receive the publication's Influential Women in Business Award (IWIB).
The 25th Annual IWIB awards ceremony, which recognizes outstanding women executives in suburban Chicago who excel in business, civic and personal areas, was virtually held on Nov. 10. The publication is the leading provider of business news and information about business and the economy in suburban Chicago.
Based in Naperville, JJR Marketing is a 16-year-old full-service, award-winning marketing, and public relations agency that provides customized solutions to clients in various verticals. Knur joined the firm in 2018. Her roles include managing accounts for marketing and public relations clients and creating content for client social media channels and ideas for email campaigns and events.
"It's an honor to be named with several other influential women in business from the Chicagoland area," Knur said. "I appreciate Daily Herald Suburban Business hosting a recognition program like this. Giving back to the communities, industries, and future generations is so important! I hope that other women feel inspired to go out and make an impact."
JJR Marketing CEO Jacqueline S. Ruiz is proud that the publication recognized Knur for this achievement.
"Kylie has grown in confidence in her important role as a JJR Mission Manager when she came to us almost five years ago," Ruiz said. "She makes sure that project deadlines are met, creates fantastic out-of-the-box ideas to help clients amplify their branding and messaging, educates clients about the power of social media, and always looks to continue her education as a marketer through online certification programs. She also volunteers in her local organizations and even at her alma mater where she recently shared her knowledge with a new generation of marketing students. I know Kylie will go far with her marketing career."
About JJR Marketing:
JJR Marketing is a full-service, award-winning marketing, and public relations agency. We're passionate about taking your business to "ascending" mode. Our integrated approach harnesses the power of your brand to create leads, increase sales, drive digital traffic, tap into new markets and make things happen. That's why companies, from innovative start-ups to Fortune 500, choose JJR Marketing. For information, call 630-445-2333 or visit http://www.jjrmarketing.com.
###