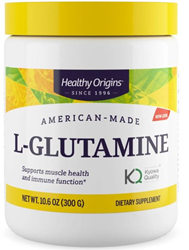 NEW YORK (PRWEB) June 15, 2020
With a mission to provide consumers with "healthy value from reliable origins," Healthy Origins introduces its new L-Glutamine dietary supplement product, formulated exclusively with Kyowa Hakko's American-made, researched-backed L-Glutamine ingredient.
"Glutamine is a conditionally indispensable amino acid and plays a pivotal role in gut health, immune function and minimizing muscle breakdown," explains Elyse Lovett, MS, MBA, Senior Marketing Manager at Kyowa Hakko U.S.A. Inc. L-Glutamine is produced naturally in the body. However, during times of stress or rigorous exercise, natural levels of L-Glutamine may be reduced. "For this reason," says Lovett, "many athletes choose to add supplemental L-Glutamine to their diet and exercise regimen. L-Glutamine may help to optimize athletic performance, support muscle health, minimize muscle breakdown and support healthy immune cell function*."
In choosing ingredients for their high-quality, yet affordable, dietary supplements, Matthew Eby, Owner of Healthy Origins remarks, "We start by sourcing the highest quality active ingredients from the most reputable suppliers in the world. The majority of Healthy Origins products are manufactured using patented, branded ingredients supported by years of scientific research and clinical studies."
As the leading international health ingredient manufacturer of pharmaceuticals, nutraceuticals and food products worldwide, Kyowa Hakko's, non-GMO, allergen-free, and pure L-Glutamine ingredient seamlessly aligns with these standards. Better yet, the Kyowa Quality L-Glutamine is made in the USA, ensuring complete quality and purity control, no transportation or custom delays, and is more cost-efficient, with no tariffs or shipping hassles.
"Here at Kyowa Hakko USA, we draw on 60-years of pioneering innovation to produce our premium quality Glutamine," comments Lovett, "We make our amino acids right here in the USA. It all starts in our facility at Cape Girardeau, Missouri. We rely on our advanced fermentation and purification technology to produce our Glutamine."
Kyowa Hakko is the first to develop industrial fermentation processes to produce amino acids. The patented fermentation process yields a pure, high quality form of L-Glutamine, without added chemicals. This novel ingredient is part of Kyowa Hakko's extensive line of amino acids and related compounds, which exceed commodity ingredients in purity, quality and safety, and are distinguished from mainstream commodity ingredients by the Kyowa Quality logo.
"Having our L-Glutamine chosen as the exclusive ingredient in this new Healthy Origins product is a huge win for us," remarks Lovett, "We couldn't be more excited to further our mission of providing healthy solutions to improve quality of life through the help of this reputable brand."
Healthy Origins American-Made L-Glutamine is available for purchase at http://www.healthyorigins.com. Media interested in setting up an interview with a Kyowa Hakko, please contact Sara White at sara@adinnyc.com or 914.621.1323.
*These statements have not been evaluated by the Food and Drug Administration. This product is not intended to diagnose, treat, cure or prevent any disease.
About Kyowa Hakko USA:
Kyowa Hakko USA is the North & South American office for Kyowa Hakko Bio Co. Ltd., an international health ingredients manufacturer and world leader in the development,
manufacturing, and marketing of pharmaceuticals, nutraceuticals and food products. For more information visit Kyowa-USA.com.