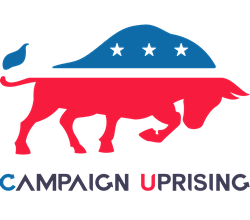 "CampaignUprising.com has paired its robust marketing platform with our national voter file and streamlined the digital and direct mail marketing process for campaigns." ~ Bruce Willsie, CEO of L2
LOUISVILLE, Ky. (PRWEB) July 22, 2020
L2 and CampaignUprising.com announced today the integration of the L2 data set into the CampaignUprising.com advertising platform to give clients additional leverage of L2 data for political marketing purposes.
The connection between the L2 dataset and the CampaignUprising.com self-service marketing platform allows political organizations to quickly deploy digital advertising campaigns from an all-encompassing platform. The CampaignUprising.com software allows for segmentation and implementation of L2's data, a creative asset builder, and digital campaign deployment all from the console of CampaignUprising.com's marketing system.
Marty Meyer, CCO of CampaignUprising.com, stated about the partnership, "The data integration between CampaignUprising.com and L2 is the next step for the political industry. The ability for politicians and organizations to use these products together will upend the way candidates of all size actionize data. With L2's data and CampaignUprising.com's ability to target voters with the data, a huge void in politics and advocacy has been filled."
Bruce Willsie, CEO of L2 went on to say, "CampaignUprising.com has paired its robust marketing platform with our national voter file and streamlined the digital and direct mail marketing process for campaigns. At L2 we have a 50-year history of being the data provider to many state and national organizations along with 10s of thousands of down-ballot campaigns. CampaignUprising.com's solution makes it possible for campaigns of all sizes to quickly and easily activate powerful voter, demographic and consumer data."
L2 is the nation's largest and longest-serving national voter file provider. For 50 years L2 has continued to improve upon its 53 stage hygiene process to provide campaigns, advocacy, government officials, researchers, universities, and other political organizations with the ability to precisely find and communicate with voters. L2's nearly 700 fields of contact, demographic, consumer, donor, and modeled issue data are made easily available on L2 VoterMapping an award-winning web-based selection, analysis, and export tool. Contact data available include email addresses from three trusted national sources and telephone numbers from 10 national sources including 3 mobile-only. Learn more: https://www.L2political.com
CampaignUprising is a self-service political marketing platform that allows political campaigns, candidates, advocacy groups, and others to create a digital marketing banners, select targeted voters from a series of pre-define data sets, and deploy marketing campaigns to voters all over the United States within minutes. For more information please visit: https://www.campaignuprising.com.