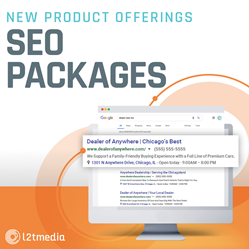 "With our new upgraded technology, we continue to leverage SEO best practices but also get a major boost from machine learning applications, removing some of the guess work which is the difference between what will work and what may work. " – Jeff Kaufman, VP, Product and Strategy, L2TMedia
CHICAGO (PRWEB) March 12, 2020
L2TMedia has re-vamped our Search Engine Optimization (SEO) packages to provide our dealers with enhanced data-driven insights using machine learning to grow their organic website traffic. The new packages include upgraded technology giving dealers the competitive advantage to reach more potential customers and increase SERP results.
The new technology provides a truly comprehensive approach to SEO, including:

Competitor analysis
Local ranking analysis
Data insights on relevant content topics
Automated website recommendations
Robust keyword research based on search volume and share of voice
GMB posting and optimizations
Credible Off-site and On-site links
"With so much competition in the dealer world, we want to continue to invest in the best ways for our customers to be top of the search results helping to assist in capturing those in-market buyers looking for a dealership. With our new upgraded technology, we continue to leverage SEO best practices but also get a major boost from machine learning applications, removing some of the guess work which is the difference between what will work and what may work. " – Jeff Kaufman, VP, Product and Strategy, L2TMedia
L2T has helped thousands of dealers connect with millions of car buyers, and our SEO clients see +10% year-over-year organic traffic growth.
With our team of SEO Specialists, dealers receive personalized and strategic insights to reach their specific goals through tailored website optimizations and content.
Interested in a free website audit or want to learn which SEO package best fits your business goals?
Contact us at sales@l2tmedia.com or at 888.331.9292.
About L2TMedia:
Established in 2007, L2TMedia brings more than a decade of automotive digital experience to retailers. L2T has a robust suite of digital products, and has become one of the premier service providers of digital marketing solutions in the automotive industry. We partner with a range of dealership groups and OEM certified programs to help dealers build awareness, engage customers and generate leads.
For more information, visit l 2tmedia.com.