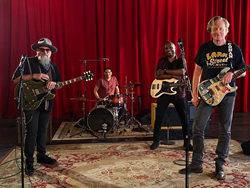 LOS ANGELES (PRWEB) December 04, 2020
On Saturday, November 28, 2020, several dozen Los Angeles-based entertainers came together for the successful online streaming telethon event "Project Kids-Care," which raised funds to help underserved children during the holidays. This six-hour event featured video performances and appearances from celebrities, with the musical theme that featured songs and inspirational messages about Peace, Love & Understanding and the holidays. The event was produced by the Get Together Foundation (GTF), in association with Rock Cellar Productions. The telethon was live-streamed through Alert the Globe (http://www.alerttheglobe.com) and Facebook Live, as well as on ABC7.com. It was free to watch, and viewers were able to donate through a link or text-to-donate in real time. The show will be re-streamed on Alert the Globe [date TBA]. Donations are still being accepted. To donate, text the word "TOGETHER" to 24365.
Highlights included musical performances from Don Felder (formerly of the Eagles), Larkin Poe, Kenny G, Kenny Loggins, Conan O'Brien and Jimmy Vivino with Mike Merritt and James Wormworth, GTF's house band The Tribe, a surprise previously unannounced performance from Bernard Fowler (backing vocalist for The Rolling Stones), and a world premiere of Davey Johnstone's new video and song "All the Time in the World" featuring singer Vanessa Bryan. And in addition to performances, several stars gave recorded shoutouts, including Jack Black, Joe Jonas, Dionne Warwick, The Boxmasters (Billy Bob Thornton & JD Andrew), Cybill Shepherd, Michelle Phillips, Jon Anderson of YES, Los Angeles City Councilmember John Lee, Dodgers great Steve Yeager, and over a dozen others. For a full list of guests, visit https://projectkids-care.org/.
Conan O'Brien's performance of the holiday classic "Run Rudolph Run" has been posted on O'Brien's "Team Coco" YouTube page. View the performance here: https://youtu.be/kE8XfvC3-N0.
Actor David Arquette, who served as one of the event's emcees, noted, "Project Kids-Care Telethon was wonderful to be a part of. It supported such great charities, including one that is close to my heart: The Los Angeles Children's Hospital, because one of my favorite doctors is there, Dr. David Skaggs. He is my hero!"
Another aspect of the Get Together Foundation's end-of-the-year charity campaign is the Project Kids-Care Online Auction, which is running through December 13, 2020. Auction items range from exotic vacation experiences, to sports and music memorabilia, hotel/restaurant packages, beauty baskets and other items guaranteed to delight and surprise.
Proceeds are going to the following charity organizations for their programs and services for kids: Get Together Foundation (food & shelter); 100 Black Men (mentoring & education); Valley Cultural Foundation (arts & education); Spark of Love Toy Drive (toys & sports equipment); and Children's Hospital of Los Angeles (healthcare).
During the show, Get Together Foundation co-founder and executive producer Kevin Wachs stated, "When we first started the Get Together Foundation over a decade ago, our vision was one of people working together toward a common goal. And that's what we've got tonight. This year has been really tough for everyone, but sometimes it's easy to forget that kids are the most vulnerable. So we decided to partner up with four worthy organizations, all benefiting kids at the holidays. So thanks to all the wonderful people who've made this happen: the musicians and the hosts, the techies and countless others."
Lauri Reimer, the show's producer/director, stated, "I'm very proud of this telethon. It was amazing to assemble several dozen contributions of songs and shoutouts by the many talented individuals who took time to prepare something special for our show. My goal was to create an engaging and entertaining program for all to enjoy from the comfort of their homes with hopes that these compelling messages would help us raise some significant money for the cause. I'm so happy that we, together with our partners, will be providing so many kids with wonderful things this holiday season."
Visit https://projectkids-care.org/ for more information. The website is still being updated and will eventually house a video archive of the full event.