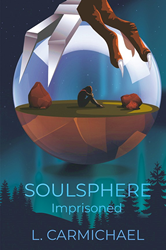 "Young readers will especially enjoy this futuristic love story that begins a new series. We are proud to announce its release." - Robert Fletcher, CEO of Strategic Book Publishing and Rights Agency
FORT COLLINS, Colo. (PRWEB) February 05, 2020
Five hundred years in the future, a prince meets a human girl living alone in Earth's wilderness. The first book in a new series, "Soulsphere: Imprisoned" introduces Gale McCarthy, a brave young earthling shielded by a dome that protects her from harm.
When Prince Oberon's ship lands in her forest to begin a conquest of Earth, the protective but lonely Sciath dome where Gale resides makes short work of his soldiers. Oberon and his army use a psychic weapon allowing them to control, enslave, and kill with only a thought. But Gale is the first being in the galaxy immune to the weapon.
Oberon manages to capture Gale and bring her to his ship to study. He also wants to learn about her Sciath dome, and tries to turn her power to his advantage. Oberon's overlord, a half-vulture hybrid, orders Oberon to get Gale on their side, even if charming her is the only way to do it. Does their out-of-this-world romance have a chance?
Watch the video book trailer at: https://youtu.be/fnzzaihuQIw
About the Author: L. Carmichael is a math and science teacher of middle and high school students in Thousand Oaks, California. She currently teaches classes at her local teen center and is also a private tutor for SAT/ACT preparation. She is a community volunteer and an ordained minister.
"Young readers will especially enjoy this futuristic love story that begins a new series. We are proud to announce its release," said Robert Fletcher, CEO of Strategic Book Publishing and Rights Agency.
SOULSPHERE: IMPRISONED (ISBN: 978-1-950015-65-8) is now available for $14.50 and can be ordered through the publisher's website:
http://www.sbprabooks.com/LCarmichael or at your favorite book seller.
WHOLESALERS: This book is distributed by Ingram Books and other wholesale distributors. Contact your representative with the ISBN for purchase. Wholesale purchase for retailers, universities, libraries, and other organizations is also available through the publisher; please email bookorder@sbpra.net.