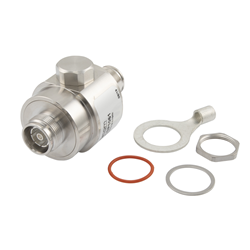 "These new coax surge protectors were developed using a proprietary surge technology that provides very fast responses to power and lightning surges," said Dan Rebeck, Product Manager
IRVINE, Calif. (PRWEB) September 30, 2019
L-com, an Infinite Electronics brand and a preferred manufacturer of wired and wireless connectivity products, announced today that it has introduced two new high performance, coaxial lightning and surge protectors that were designed to protect valuable communications equipment from power surges and indirect lightning strikes.
The LCSP-106x-series surge protectors feature VSWR as low as 1.12:1, max power of 500W, multi-strike capability, surge current of 20kA, low insertion loss and frequency range support of 698MHz - 2.7GHz. The LCSP1061 features two female 4.3-10 coaxial connectors and the LCSP1062 features one male 4.3-10 connector and one female 4.3-10 connector.
These new 4.3-10 surge protectors are IP67-rated for outdoor use and can be used in Wi-Fi networks, cellular base stations, active antenna systems, DAS networks and public safety systems.
"These new coax surge protectors were developed using a proprietary surge technology that provides very fast responses to power and lightning surges. These 4.3-10 surge protectors offer high RF performance and can be used to protect critical communications devices found in many different wired and wireless networks," said Dan Rebeck, Product Manager.
L-com's new 4.3-10 coaxial lightning and surge protectors are in-stock and available for immediate shipment.
About L-com:
L-com, a leading manufacturer of wired and wireless connectivity products, offers a wide range of solutions and unrivaled customer service for the electronics and data communications industries. The company's product portfolio includes cable assemblies, connectors, adapters, antennas, enclosures, surge protectors and more. L-com is headquartered in North Andover, Mass., is ISO 9001: 2015 certified and many of its products are UL® recognized. L-com is an Infinite Electronics brand.
About Infinite Electronics:
Based in Irvine, Calif., Infinite Electronics offers a broad range of components, assemblies and wired/wireless connectivity solutions, serving the aerospace/defense, industrial, government, consumer electronics, instrumentation, medical and telecommunications markets. Infinite's brands include Pasternack, Fairview Microwave, L-com, MilesTek, Aiconics, KP Performance Antennas, PolyPhaser, Transtector, RadioWaves, Kaelus, ShowMe Cables and Integra Optics. Infinite Electronics serves a global engineering customer base with deep technical expertise and support, with one of the broadest inventories of products available for immediate shipment.