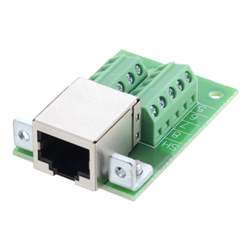 "Our new RJ45 termination block is a very versatile solution to address many different connectivity applications. It can be used for field repair, prototyping new designs, or it can be used as a standard component in new product designs," said Dustin Guttadauro, Product Manager
NORTH ANDOVER, Mass. (PRWEB) February 14, 2019
L-com, a preferred manufacturer of wired and wireless connectivity products, announced today that it has launched a new RJ45 termination board.
The RJ45FTJ is a slim, low profile breakout board that features an RJ45 (8x8) jack and screw terminals. The breakout board brings out all eight signal pins and the shield to screw down terminal blocks for easy termination or field wiring. This allows for quick and easy connections for prototypes, field wiring or even permanent installations.
Angled brackets provide an easy way to panel mount the block if desired, and holes drilled into the PCB provide a convenient way to anchor the unit and/or tie-wrap wires to the edge of the PCB. The block's compact design takes up minimal space, allowing for multiple connections in a small area.
"Our new RJ45 termination block is a very versatile solution to address many different connectivity applications. It can be used for field repair, prototyping new designs, or it can be used as a standard component in new product designs," said Dustin Guttadauro, Product Manager.
L-com's new RJ45 termination block is in stock and available for immediate shipment.
For more information about this release, please contact:
Peter McNeil
L-com
17792 Fitch
Irvine, CA
978-682-6936
About L-com:
L-com, a leading manufacturer of wired and wireless connectivity products, offers a wide range of solutions and unrivaled customer service for the electronics and data communications industries. The company's product portfolio includes cable assemblies, connectors, adapters, antennas, enclosures, surge protectors and more. L-com is headquartered in North Andover, Mass., is ISO 9001: 2008 certified and many of its products are UL® recognized. L-com is an Infinite Electronics brand.
About Infinite Electronics:
Infinite Electronics is a leading global supplier of electronic components serving the urgent needs of engineers through a family of highly recognized and trusted brands. Our portfolio brands are specialists within their respective product set, offering broad inventories of engineering-grade product, paired with expert technical support and same day shipping. Over 100,000 customers across a diverse set of markets rely upon Infinite Electronics to stock and reliably ship urgently needed products every day.