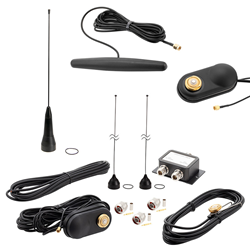 "These new vehicular antennas were developed to address the growing need for mobile wireless communications in a multitude of vehicular applications...or any mobile cellular application that requires wireless connectivity, "said Mark Miller, Product Line Manager
IRVINE, Calif. (PRWEB) March 12, 2020
L-com, an Infinite Electronics brand and a preferred manufacturer of wired and wireless connectivity products, announced today that they have launched four new categories of antennas designed to address public safety, mobile cellular and service vehicle applications.
L-com now stocks poly spring vehicular antennas, combination mounts with NMO connectors and integrated GPS/GLNSS antennas, glass mount antennas and multiband duplexed vehicular antenna kits. These 12 new models of poly spring antennas feature wideband and tunable models, and ground dependent and ground independent models that handle up to 150 watts of input power. The combination NMO mount with integrated GPS and GLNSS antennas feature a 30 dB gain LNA for the GPS models, a 28 dB gain LNA for the GPS/GLNSS models and they are both IP66-rated for use in harsh environments. The vehicular antenna kits support frequency ranges of 100 MHz to 870 MHz and include a duplexer, NMO mounts, two antennas, coaxial cable and crimp-on Type-N connectors. L-com's glass-mount antenna supports frequency ranges of 824-960/1710-2170 MHz and features 2 dBi gain.
"These new vehicular antennas were developed to address the growing need for mobile wireless communications in a multitude of vehicular applications including public safety, service and fleet vehicle applications or any mobile cellular application that requires wireless connectivity, "said Mark Miller, Product Line Manager.
All of L-com's new vehicular antennas are in-stock and available for immediate shipment.
About L-com:
L-com, a leading manufacturer of wired and wireless connectivity products, offers a wide range of solutions and unrivaled customer service for the electronics and data communications industries. The company's product portfolio includes cable assemblies, connectors, adapters, antennas, enclosures, surge protectors and more. L-com is headquartered in North Andover, Mass., is ISO 9001: 2015 certified and many of its products are UL® recognized. L-com is an Infinite Electronics brand.
About Infinite Electronics:
Based in Irvine, Calif., Infinite Electronics offers a broad range of components, assemblies and wired/wireless connectivity solutions, serving the aerospace/defense, industrial, government, consumer electronics, instrumentation, medical and telecommunications markets. Infinite's brands include Pasternack, Fairview Microwave, L-com, MilesTek, Aiconics, KP Performance Antennas, PolyPhaser, Transtector, RadioWaves, ShowMe Cables, INC-Installs, and Integra Optics. Infinite Electronics serves a global engineering customer base with deep technical expertise and support, with one of the broadest inventories of products available for immediate shipment.