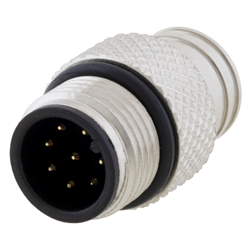 "Our new moldable M12 connectors were designed to address the need for M12 connectors that can be field terminated in situations where repair or retrofits are required," said Dustin Guttadauro, Product Manager
NORTH ANDOVER, Mass. (PRWEB) January 29, 2019
L-com Global Connectivity, a preferred manufacturer of wired and wireless connectivity products, announced today that it has released a new line of moldable M12 connectors designed to address harsh environment networking applications.
L-com's rugged, moldable M12 connectors can be directly soldered to a cable and they can be over-molded or heat-shrunk. The connectors are available in male and female styles with 8 Position A-code, 4 Position D-Code and 8 Position X-code keying options. The D-code and X-code connectors are rated for twisted pair or Ethernet applications, while the A-code connectors are designed for straight wire use. All of these new M12 connectors are shielded and are either IP67 or IP68-rated when properly terminated and mated.
"Our new moldable M12 connectors were designed to address the need for M12 connectors that can be field terminated in situations where repair or retrofits are required. These rugged connectors are perfect for use in process, manufacturing, oil and gas, and automation industries," said Dustin Guttadauro, Product Manager.
L-com's new moldable M12 connectors are in stock and available for immediate shipment.
For more information about this release, please contact:
Peter McNeil
L-com Global Connectivity
17792 Fitch
Irvine, CA
978-682-6936
About L-com Global Connectivity:
L-com Global Connectivity, a leading manufacturer of wired and wireless connectivity products, offers a wide range of solutions and unrivaled customer service for the electronics and data communications industries. The company's product portfolio includes cable assemblies, connectors, adapters, antennas, enclosures, surge protectors and more. L-com is headquartered in North Andover, Mass., is ISO 9001: 2008 certified and many of its products are UL® recognized. L-com is an Infinite Electronics brand.
About Infinite Electronics:
Infinite Electronics is a leading global supplier of electronic components serving the urgent needs of engineers through a family of highly recognized and trusted brands. Our portfolio brands are specialists within their respective product set, offering broad inventories of engineering-grade product, paired with expert technical support and same day shipping. Over 100,000 customers across a diverse set of markets rely upon Infinite Electronics to stock and reliably ship urgently needed products every day.