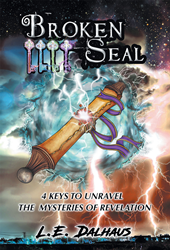 MEADVILLE, Pa. (PRWEB) January 30, 2023
"Broken Seal: 4 Keys to Unravel the Mysteries of Revelation": a potent evaluation of key components of God's word. "Broken Seal: 4 Keys to Unravel the Mysteries of Revelation" is the creation of published author L.E. Dalhaus, a dedicated wife for over forty years, a proud mother of two, and a loving grandmother of two.
Dalhaus shares, "Revelation—It's fascinating, mysterious, beautiful, but brutal at times. It can be a bit confusing and sometimes scary, but you just can't stop and wonder what it all means. If this is how you feel about the book of Revelation, then this book will be a welcome companion and a cherished title in your book collection. Join L. E. Dalhaus on this fantastic journey as the keys to Revelation are displayed in full color to bring new insight like never before! Every prophecy cross-referenced and explained using only the Bible; no other outside commentary is applied."
"As you are guided through this step-by-step adventure, you will gain new understanding and be able to decode this ancient intriguing text in an exciting, new way. Take a descriptive dive into one of the most fascinating books that has ever been written! In the end, you will never look at the book of Revelation the same way again."
"From the first day when Revelation was delivered to the Churches until now, the future events foretold in Revelation have been taught as one long chronological narrative of the end times rendering much of it perplexing. The biblical genre used in most of the Old Testament's prophetical books, such as, Daniel, Isaiah, Ezekiel, and others paint several renditions of future events. Revelation is no different and delivers four, not one, adventures into the future. This discovery removes ambiguity and unlocks the mysteries of Revelation like never before.
"Take a unique journey through the four keys of Revelation. For the first time ever the book of Revelation has been unsealed and sorted into its four separate and complete prophecies of end time events.
"The keys in each of this book's topical chapters unseal Revelation's mysterious complexities into clear understandable explorations through the end of the spirit-world's world war that humankind is at the center of. Difficult questions about the tribulation, rapture, the final judgement, and alike are made easy to find and understand like never before! Over sixteen hundred biblical references and two- hundred plus bible quotes are provided to connect the texts and interpret Scripture giving a rich and concise overview of what the Bible teaches about the end of days and beyond."
Published by Christian Faith Publishing, L.E. Dalhaus's new book presents a careful and informative study of scripture that provides cross-referencing from various versions of the Bible.
Dalhaus shares in hopes of aiding others in their pursuit of understanding God's word.
Consumers can purchase"Broken Seal: 4 Keys to Unravel the Mysteries of Revelation" at traditional brick & mortar bookstores, or online at Amazon.com, Apple iTunes store, or Barnes and Noble.
For additional information or inquiries about "Broken Seal: 4 Keys to Unravel the Mysteries of Revelation," contact the Christian Faith Publishing media department at 866-554-0919.