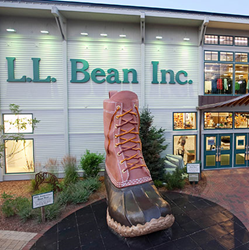 The grand opening celebration will begin on Friday, August 3 and go through Sunday, August 5. Everyone is invited to the three-day event featuring giveaways, games, a weekend block party, L.L.Bean's famous Bootmobile and more.
FREEPORT, Maine (PRWEB) July 19, 2018
Maine-based outdoor retailer L.L.Bean, best known for its L.L.Bean Boots and world class customer service, announced the grand opening of its newest retail store at The Shops at Yale in the Broadway District of New Haven on August 3 at 9 a.m. The nearly 9,000-square-foot store will feature an assortment of active and casual apparel, outerwear and footwear, as well as gear for outdoor enthusiasts.
The grand opening celebration will begin on Friday, August 3 and go through Sunday, August 5. Everyone is invited to the three-day event featuring giveaways, games, a weekend block party, L.L.Bean's famous Bootmobile and more.
Join L.L.Bean for a weekend of grand opening events:
Friday, August 3:

Doors open at 9 a.m. and the first 200 customers in line will receive a free L.L.Bean Gift Card worth up to $500. Line begins at 6 a.m.
Saturday, August 4 and Sunday, August 5:

Free outdoor yoga, beginning at 9 a.m. and 10 a.m.
Outdoor block party with games and giveaways for the whole family, including family dogs, 12-6 p.m.
Live music and free food 12-2 p.m.
Bring your well-socialized four-legged friend for a dog meet and greet with L.L.Bean's Millie of Maine.
Enter to win an adventure trip for two to Maine.
The new store will offer the people of New Haven and beyond the opportunity to experience first-hand everything the legendary outdoor retailer offers: quality merchandise, exemplary customer service and a commitment to always do what's right by its customers, employees, the environment and the community. The store will also feature opportunities for customers to learn new outdoor skills and activities from expert instructors through L.L.Bean Outdoor Discovery Programs.
"New Haven offers outstanding outdoor recreation opportunities, from strolling through the green, to paddling rivers and streams, to hiking in nearby state parks," said Greg Elder, Vice President of Stores at L.L.Bean. "We're excited to bring our outdoor expertise to The Shops at Yale and help everyone in the New Haven area enjoy the outdoors we all share."
"We are delighted to welcome L.L. Bean to the Broadway Shopping District at the Shops at Yale," said Lauren Zucker, Associate Vice President for New Haven Affairs and University Properties at Yale. "Yale University's community investment program supports the growth of New Haven, reinvigorating New Haven's downtown."
This will be L.L.Bean's third retail store in Connecticut, and its 38th retail store outside of Maine. L.L.Bean currently operates retail stores in Danbury and South Windsor. The new store will employ over 20 people.
For more information about L.L.Bean's New Haven store and the grand opening event, including a detailed schedule of events, visit http://www.llbean.com/newhaven
About L.L.Bean, Inc.
L.L.Bean, Inc. is a leading multichannel merchant of quality outdoor gear and apparel. Founded in 1912 by Leon Leonwood Bean, the company began as a one-room operation selling a single product, the Maine Hunting Shoe. Still family owned, Shawn Gorman, great grandson of Leon Leonwood Bean, was named Chairman of the Board of Directors in 2013. While its business has grown over the years, L.L.Bean continues to uphold the values of its founder, including his dedication to quality, customer service and a love of the outdoors. In the past five years, L.L.Bean has donated over $6 million toward conservation and land stewardship. L.L.Bean currently operates 40 stores in 17 states across the United States, along with 27 stores in Japan. The 220,000-sq. ft. L.L.Bean retail store campus in Freeport, ME, is open 24 hours a day, 365 days a year and welcomes more than 3 million visitors every year. L.L.Bean can be found worldwide at http://www.llbean.com, Facebook, Twitter, YouTube, Pinterest, Google+ and Instagram.
About the Shops at Yale & University Properties:
The Shops at Yale is made up of the Chapel Street Historic and Broadway Districts in New Haven and includes a mix of retailers and restaurants. Yale University Properties manages Yale University's commercial properties, including retail stores, office spaces, and residential units in New Haven. Enabled by Yale's community investment program, University Properties is committed to enhancing the quality of life in New Haven through the development of high quality retail and office environments and the revitalization of surrounding neighborhoods. As a result of University Properties' community investment program, Yale University is one of the largest taxpayers in the city of New Haven. Learn more at TheShopsatYale.com and ONHSA.Yale.edu.
Parking
Ample parking for The Shops at Yale is available at four convenient surface parking lots adjacent to stores and restaurants — 56 Broadway, 40 Dixwell Avenue, 255 Crown Street and 161 York Street. Directions can be found at TheShopsatYale.com/Parking. On-street parking is available throughout the city, with the ability to accept payment through credit cards or mobile app.