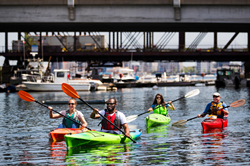 L.L.Bean provides everything you need to get out on the water, no experience necessary.
BOSTON (PRWEB) June 12, 2019
L.L.Bean is bringing outdoor fun to Fort Point Channel this summer with Outdoor Discovery Programs launching from Boston Children's Museum. L.L.Bean provides everything you need to get out on the water, no experience necessary. Discovery courses are open to the public and perfect for anyone who wants to learn a new skill or just wants to get out and explore. Kayak programs begin Saturday, June 15, with stand-up paddleboard programs and harbor tours coming soon.
"L.L.Bean is thrilled to launch our first urban paddling program just footsteps from our store in Seaport," said Gretchen Ostherr, Director of Outdoor Discovery Programs for L.L.Bean. "We are especially excited about our partnership with Boston Children's Museum and what that will mean for enabling access to the water for many kids and families that might not otherwise have the opportunity."
L.L.Bean opened its first urban retail store last year at One Seaport and has been working with Boston Children's Museum ever since. Both organizations share a commitment to the well-being of children and families and promote experiential learning for people of all ages.
"Boston Children's Museum is delighted to partner with L.L.Bean to further activate the waterfront on Fort Point Channel," said Carole Charnow, President and CEO. "These paddling programs will allow children and families to explore the natural richness of the waterfront, and they will get to experience the wonderful benefits of outdoor physical activity in the City of Boston."
In addition to the regularly scheduled public programs, L.L.Bean will also offer custom courses and team building for corporate outings and private events. The new location is ideal for businesses in Downtown, the Financial District or Seaport to plan unique outdoor adventures this summer.
Introductory level Discovery Courses, normally $25, are free during the month of June at all L.L.Bean locations, in partnership with Mastercard. Visit the L.L.Bean website for complete details and to sign-up at http://www.llbean.com/adventure.
About L.L.Bean, Inc.
L.L.Bean, Inc. is a leading multichannel merchant of quality outdoor gear and apparel. Founded in 1912 by Leon Leonwood Bean, the company began as a one-room operation selling a single product, the Maine Hunting Shoe. L.L.Bean is a family-owned Maine company led by Executive Chairman, Shawn Gorman, the great-grandson of Leon Leonwood Bean; and Stephen Smith, President and CEO. While its business has grown over the years, L.L.Bean continues to uphold the values of its founder, including his dedication to quality, customer service and a love of the outdoors. In the past ten years the company has provided over $30 million to nonprofit organizations. L.L.Bean currently operates 44 stores in 18 states across the United States, along with 28 stores in Japan. The 220,000-sq. ft. L.L.Bean retail store campus in Freeport, ME, is open 24 hours a day, 365 days a year and welcomes more than 3 million visitors every year. L.L.Bean can be found worldwide at http://www.llbean.com, Facebook, Twitter, YouTube, Pinterest, and Instagram.
About Boston Children's Museum
Boston Children's Museum engages children and families in joyful discovery experiences that instill an appreciation of our world, develop foundational skills, and spark a lifelong love of learning. More information about Boston Children's Museum can be found at http://www.BostonChildrensMuseum.org. Become a fan of the Museum on Facebook and follow us on Twitter. Hours and Admission: The Museum is open daily from 10:00 a.m. – 5:00 p.m. Fridays until 9:00 p.m. Adults, $17, children (1-15) and senior citizens, $17; children under 12 months and Museum members are always free. Fridays 5:00 p.m. – 9:00 p.m., all visitors $1.