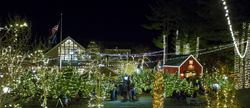 People of all ages are invited to join this Maine holiday tradition and to help illuminate the Discovery Forest of hundreds of Christmas trees.
FREEPORT, Maine (PRWEB) November 01, 2018
Internationally recognized outdoor retailer L.L.Bean, best known for its legendary customer service and high-quality gear and apparel that help to further people's enjoyment of the outdoors, will the open the annual Northern Lights Celebration on its Freeport campus on Friday, November 16. People of all ages are invited to join this Maine holiday tradition and to help illuminate the Discovery Forest of hundreds of Christmas trees at 6:45 p.m. Before and after the lighting, families can visit Santa and his reindeer, a model train village, and a new warming hut. The opening event will feature free hot cocoa and performances by members of the Portland Symphony Orchestra.
Opening Night, Friday, November 16

4:00-8:00 p.m. Visit Santa in his workshop and reindeer in his barn
4:00-9:00 p.m. Experience the Model Train Village and write a letter to Santa, sip a free cup of hot cocoa and visit the new Warming Hut, or join a festive scavenger hunt across the whole L.L.Bean campus
6:45-7:00 p.m. Lighting ceremony in Discovery Park
7:00-8:00 p.m. Enjoy music from Portland Symphony Orchestra members inside the store
7:00-8:30 p.m. Watch a family holiday movie in the Camping Atrium
7:00-9:00 p.m. Explore the trails of Discovery Forest with hundreds of lighted Christmas trees
Southern Maine Agency on Aging will once again be on hand to collect Coats for Seniors throughout the opening weekend. Visitors are invited to donate their gently used adult winter coats to keep their elder neighbors warm during the winter ahead.
L.L.Bean's Northern Lights Celebration continues with events and activities every day through New Year's Eve. Ongoing daily events include the Discovery Forest, warming hut, and model train village. Weekends will feature Santa, reindeer, and horse-drawn wagon rides until December 23. A full schedule is online at http://www.llbean.com/northernlights.
ABOUT L.L.BEAN
L.L.Bean, Inc. is a leading multichannel merchant of quality outdoor gear and apparel. Founded in 1912 by Leon Leonwood Bean, the company began as a one-room operation selling a single product, the Maine Hunting Shoe. L.L.Bean is a family-owned Maine company led by Executive Chairman Shawn Gorman, the great-grandson of Leon Leonwood Bean, and Stephen Smith, President and CEO. While its business has grown over the years, L.L.Bean continues to uphold the values of its founder, including his dedication to quality, customer service and a love of the outdoors. In the past five years, L.L.Bean has donated over $6 million toward conservation and land stewardship. L.L.Bean currently operates 43 stores in 18 states across the United States, along with 28 stores in Japan. The 220,000-sq. ft. L.L.Bean retail store campus in Freeport, ME, is open 24 hours a day, 365 days a year and welcomes more than 3 million visitors every year. L.L.Bean can be found worldwide at http://www.llbean.com, Facebook, Twitter, YouTube, Pinterest, and Instagram.