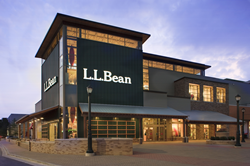 Our new store will be a showcase for great outdoor products and a resource for anyone looking to get outdoors.
FREEPORT, Maine (PRWEB) September 18, 2019
Internationally recognized outdoor retailer L.L.Bean, best known for high-quality gear and apparel, announced the opening date of October 18 for its new retail store in Hadley, Massachusetts. The store is the latest addition to Mountain Farms, a premiere open air shopping and dining destination, and will feature L.L.Bean's active and casual apparel, outerwear, footwear, and gear for outdoor enthusiasts. The store will employ approximately 50 staff to deliver L.L.Bean's legendary customer service and expertise to enable people of all ages to get outside and enjoy the outdoors in all seasons.
L.L.Bean Outdoor Discovery Programs will host free programming year round, from in-store product demonstrations, map and compass clinics, and guest speakers, to hiking and biking outings and community service activities.
"We're delighted to bring L.L.Bean to Pioneer Valley to help locals, visitors, and students alike take advantage of the outstanding outdoor opportunities in western Massachusetts," said Greg Elder, retail vice president at L.L.Bean. "Our new store will be a showcase for great outdoor products and a resource for anyone looking to get outdoors."
The doors will open officially at 9:00 AM on Friday, October 18, and the first 200 customers to enter will draw a gift card with a value up to $500. The celebration continues through the weekend with campfires and s'mores, free apple cider, live music, games and prizes. Shoppers can also see the L.L.Bean Bootmobile, the 12-foot rolling replica of the iconic L.L.Bean Boot, as it drives into town for the grand opening.
In celebration of the new store, L.L.Bean is donating $10,000 to the National Park Foundation in support of conservation programs at New England National Scenic Trail. This trail passes just a few miles from the store through the Holyoke Range as it travels through Massachusetts and Connecticut. The donation to the National Park Foundation will support the Appalachian Mountain Club to help make the trail more accessible and connect people to local recreation opportunities.
L.L.Bean is a premier partner of the National Park Foundation's #FindYourPark/#EncuentraTuParque movement to encourage all people to discover the breadth and depth of the National Park System, including national parks in their own backyards. The National Park Foundation will be on hand at the Hadley grand opening with PARKTRACKS, an innovative audio experience designed to virtually transport listeners to national parks across the country.
L.L.Bean currently operates stores in Boston, Burlington, Dedham, Mansfield and Mashpee, Massachusetts. The Hadley store will be its sixth in the state, and the first in western Massachusetts.
Full details and a schedule of all grand opening events can be found online at http://www.llbean.com/hadley
ABOUT L.L.BEAN
L.L.Bean, Inc. is a leading multichannel merchant of quality outdoor gear and apparel. Founded in 1912 by Leon Leonwood Bean, the company began as a one-room operation selling a single product, the Maine Hunting Shoe. L.L.Bean is a family-owned Maine company led by Executive Chairman Shawn Gorman, the great-grandson of Leon Leonwood Bean, and Stephen Smith, President and CEO. While its business has grown over the years, L.L.Bean continues to uphold the values of its founder, including his dedication to quality, customer service and a love of the outdoors. In the past five years, L.L.Bean has donated over $6 million toward conservation and land stewardship. L.L.Bean currently operates 45 stores in 17 states across the United States, along with 28 stores in Japan and one in Canada. The 220,000-sq. ft. L.L.Bean retail store campus in Freeport, ME, is open 24 hours a day, 365 days a year and welcomes more than 3 million visitors every year. L.L.Bean can be found worldwide at http://www.llbean.com, Facebook, Twitter, YouTube, Pinterest, and Instagram.
ABOUT MOUNTAIN FARMS
Easily-accessible from Route 9 and Interstate 91, Mountain Farms is home to a diverse mix of tenants serving Hadley, MA as well as surrounding towns such as Amherst, North Hampton, and North Amherst. With over 394,000 square feet of upscale eateries and retail, Mountain Farms is a standout destination for residents of Western Massachusetts.
ABOUT WS DEVELOPMENT
WS Development is a Massachusetts-based property developer dedicated to the creation of places where people want to be. With more than 20 million square feet of existing space and an additional five million under development, it is one of the largest privately-owned development firms in the country. In business since 1990, WS is a vertically-integrated company that develops, owns, operates, and leases over 90 properties, including urban buildings, lifestyle centers, power centers, community centers, and mixed-use developments. Its goal is to be a contributing member of each community it serves. WS takes pride in its commitment to its roots, reflected by its properties in and around New England, but also finds great satisfaction in immersing itself in new locales and expanding its national portfolio. For more information, visit http://www.wsdevelopment.com, call 617.232.8900 or follow WS Development on Linkedin.