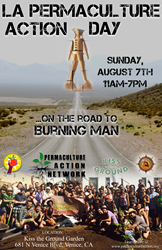 We create events that invite participation from people who want to transform the world around them, but often don't know where to look. These action days make it easy for people to stop by, participate and make new friends. -Ryan Rising, P. Action Network
Los Angeles, CA (PRWEB) July 27, 2016
Several environmental organizations are planning to use the annual trek leading up to Burning Man as an opportunity for improvement to Venice Beach. They are inviting event participants and the public to start early in a festive atmosphere by building out a local sustainability demonstration site along Venice Boulevard.
Anyone interested is invited to gather on August 7 from 11 a.m. to 7 p.m. for a Permaculture Action Day, with plans for follow-up events in cities across the country each year prior to Burning Man.
Volunteers will be planting fruit trees, beautifying a butterfly garden, waterproofing a greenhouse, building an outdoor kitchen, and erecting a shade structure as they prepare for their annual gathering in the Nevada desert in September.
There will also be opportunities to learn about permaculture and participate to acquire hands-on experience. Permaculture, a combination of the words "permanent" and "agriculture," is a design system for food, water, building, and all aspects of human life that is based on the patterns and principles of nature. The design science outlines a way of living that is beneficial to the rest of the ecosystem and improves human health.
The gathering will take place at Kiss the Ground Garden at 681 Venice Blvd. in Venice, CA (90291); an educational demonstration garden that teaches the power of regenerating soil health for carbon sequestration, food nutrition, and drought resistance. Interested individuals are welcome to join the event that day. No advance notice is required.
Participating organizations include Burners Without Borders, Common Vision, and the Permaculture Action Network. They hope to provide a meaningful experience even before the annual trip to the desert that, for many, is as renewing as it is fun.
"Burning Man is so much more than a party in the desert," says Christopher Breedlove, Program Director for Burners Without Borders (http://www.burnerswithoutborders.org). "Our community is creative, optimistic, and collaborative. People want to do good without being stereotypical 'do-gooders.' Our job is to make that possible, and worth their while."
The planting of fruit trees is a collaboration with Common Vision (http://www.commonvision.org), a long established group with a history of planting orchards in school yards around California. A recent program on their work aired on PBS, and earned an Emmy Award for producers. Visits to schools include a day of art and music to go along with the tree planting. Much the same approach will be taken on August 7th.
"Art is a key component to community health. Integrating the visual art aspect with the planting of trees gives people a vibrant way to participate with their community in a lasting manner." said TJ "Tree Jay" Lee of Common Vision.
"We create events that invite participation from people who want to transform the world around them, but often don't know where to look. These action days make it easy for people to stop by for an hour, plant a tree or build a garden bed, and make new friends," said Ryan Rising of Permaculture Action Network (http://www.permacultureaction.org), the group that has organized more than 50 of these 'Permaculture Action Days' across the country after concerts and festivals. "We want people who attend these experimental events like Burning Man to find that they can experience the world in a different way year-round if they build the spaces to do so, starting in their own communities."
Burning Man is an annual event held in the Black Rock Desert of Nevada. Now in its 30th year, the event has evolved into a culture drawing thousands of artists who practice values such as "radical self-expression," participation, inclusion, and the gifting economy. Burners Without Borders is the organization that came together after Hurricane Katrina in 2005, and works all year to support relief and artistic efforts around the world.
Visit the site at http://www.permacultureaction.org/.
About Permaculture Action Network:
Permaculture Action Network mobilizes concert-goers and festival-attendees to take direct action in their own communities the day before or after a show; inviting the fans of musicians and artists to attend one-day events by the hundreds where people build urban farms, plant forest gardens, and install other sustainable systems like rainwater catchment systems, greenhouses, and natural buildings.
About Burners Without Borders:
Burners Without Borders (BWB) is a grassroots, volunteer-driven, community leadership organization whose goal is to unlock the creativity of local communities to solve problems that bring about meaningful change. Supporting volunteers from around the world in innovative disaster relief solutions & community resiliency projects, BWB is known for the unbridled creativity they bring to every civic project they do.
About Common Vision:
Common Vision implements innovative strategies in sustainability with diverse communities and schools throughout California. Focusing on fruit trees, local agriculture, renewable energy, and community engagement, Common Vision uses inspirational education to create a healthier and more just society.
About Kiss the Ground:
Kiss the Ground exists to tell the story that building healthy soil can sequester carbon from the atmosphere and impact billions of lives in tangible and immediate ways including clean water, healthy food, drought resistance, and restored habitats. The Kiss the Ground community garden on Venice Blvd serves as a hub for gardening workshops, community gatherings, events, and classes, and is a demonstration of how public space in our communities can be used differently.