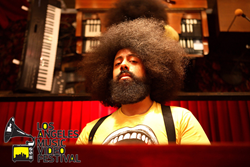 LAMVF is the most diverse program to date. This year includes 7 screenings curated from over 600 submissions from 34 countries, thought provoking panels, keynote Reggie Watts, and a first-time treatment workshop.
LOS ANGELES, CA (PRWEB) October 29, 2014
Since 2011, the Los Angeles Music Video Festival (LAMVF) has set its sights on becoming the premier American music video festival, bringing together independent filmmakers and musicians like never before. Making a name for itself in a sea of Los Angeles events, LAMVF proudly returns for its fourth annual event Wednesday, November 5th through Saturday, November 8th across three venues: Mack Sennett Studios, Downtown Independent, and Ace Hotel Downtown LA. Tickets are on sale now at http://www.lamvf.com.
Reggie Watts, American comedian and musician, is known for his unpredictable performances with impromptu live music creation. Reggie Watts will be the festival keynote speaker at Mack Sennett Studios on November 5th where he will create a music video on the spot with the audience. LAMVF and Sean Plew, head of Design for Caviar Content, will host a hands-on treatment workshop for finalists as well as young directors at Mack Sennett on November 6th.
The full festival program will be held at The Downtown Independent on November 8th. LAMVF will host two industry panels: "What's the Comish," an open forum with music video commissioners from Atlantic Records, Capitol Records, Interscope, Sony Music Group, Harvest Records and more; and "We're Being Watched," a discussion about the role of music videos on major platforms like YouTube, Vimeo, RevoltTV, MTV, and IMVDB. Mystery Skulls, aka Luis Dubuc, will be LAMVF's musical guest closing the evening with a Q&A about his creative collaboration in his own music videos. Ace Hotel Downtown LA and Soft will co-host the official after-party, featuring music and visuals from Mystery Skulls.
LAMVF selected finalists from over 600 submissions to participate in six different categories of competition: Narrative, Non-Narrative. Animated, Lyric, Unofficial, and Student. In addition to the juried competition, for the first time ever the LAMVF will be screening a "showcase" program, highlighting stand-out submissions in a variety of categories including Foreign Language and Female Directors. All finalists' videos were judged by a panel of music and music video professionals: Drea Clark (Festival Programmer/Producer), Kim Dellara (Caviar Content), Jonathan Wells (Founder/Creative Director, Flux), Steve Gottlieb (Owner & Editor, VideoStatic.com), Adam Fairholm & Doug Klinger (Co-Founders, IMVDB.com), Stephen Pitallo (Founder, Golden Age of Music Videos), and Amanda Yim (KMGMT). The winners of each category will win LAMVF's signature "EMVY" trophy and the opportunity to be distributed in LAMVF's partner festivals worldwide. Winners' work will also be featured on http://www.lamvf.com, VideoStatic.com, and IMVDB.com.
For anyone who makes music, makes videos, likes music videos, be part of the movement November 5th-8th. Visit our website for more details.
For more information, contact:
Colleen Curlin
colleen(at)lamvf(dot)com
915.269.5080
About The Los Angeles Music Video Festival:
The LAMVF was created for a single purpose: to celebrate the art of the music video. LAMVF showcases bleeding-edge work being done by a new generation of musicians and filmmakers, against the electric backdrop of downtown Los Angeles. LAMVF works to bring independent filmmakers and independent musicians together in fresh, unique and meaningful ways. Founder Sami Kriegstein believes, "There is a music video renaissance unfolding all around us and LAMVF is leading the conversation. Making a name for itself in a sea of Los Angeles events, LAMVF represents a new generation of film festival whose audience is young, aspirational, passionate, tech-savvy and un-intimidated by micro-budgets and global distribution. We do one thing: music videos."