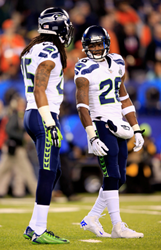 ALISO VIEJO, Calif. (PRWEB) October 05, 2020
United Champions for Change, a nonprofit organization that provides educational opportunities for children living in low-income communities around the world, is holding a socially-distanced golf tournament this Monday, October 5, 2020.
United Champions for Change was started this year by former Seattle Seahawks player, Super Bowl winner, and technology executive Walter Thurmond III. The proceeds of the event will go to The Richard Sherman Family Foundation, a non-profit organization that provides students in low-income communities with school supplies and clothing, and Breast Cancer Angels, which supports low-income women and families throughout their battle with breast cancer. Richard Sherman and Walter Thurmond III were teammates on the Seahawks and are close friends.
Tournament attendees will golf and meet with NFL players including former Seattle Seahawks safety Walter Thurmond III, former Buffalo Bills defensive back and ESPN commentator Chris Hale, and former Baltimore Ravens cornerback Talmadge Jackson III. The event will also be attended by former MLB player James Skelton, former CFL player Kenny Rowe, and former US Open competitor and LPGA professional Avis Brown Riley. Underwritten by Jump Global Technology Advisors and EY of Southern California, the tournament will be followed by an auction and reception, which includes prizes such as vacations and unique golf opportunities.
Beginning at 4:30 pm PST, athletes will be available for in person or zoom media interviews regarding topics such as the coronavirus pandemic and its impact on professional sports, the Black Lives Matter movement, and our charities.
For media inquiries, please reach out to Amanda Cohen at ac@jumpgta.com
MEDIA INQUIRIES AND PRESS ATTENDANCE MUST BE CLEARED IN ADVANCE.
The United Champions for Change golf tournament will follow California's social distancing protocols and masks/hand sanitizer will be provided for all attendees.
Details of the Champions for Change Foundation golf tournament are as follows:
When:
Friday, October 5, 2020
10:30 am
Where:
Aliso Viejo Country Club, Aliso Viejo, California
Who:
The event is underwritten by telecommunications startup Jump Global Technology Advisors and is supported by prominent accounting firm Ernst & Young Southern California.
About The United Champions for Change Foundation
The United Champions for Change Foundation was founded in 2020 by former Seattle Seahawks player and Super Bowl champion Walter Thurmond III. The organization aims to bring awareness to the disparities within educational systems both locally and globally. The foundation aims to support children in underprivileged areas so that they are empowered to build the confidence they need to achieve their goals and aspirations. For more information, please visit: https://unitedchampionsforchange.org/
Breast Cancer Angels
Breast Cancer Angels is a non-profit organization based in Southern California. The foundation provides immediate financial assistance to individuals and families undergoing breast cancer treatment. This organization believes that families should not have to choose between the cost of treatments and everyday living expenses.
About The Richard Sherman Foundation
Blanket Coverage, the Richard Sherman Family Foundation, was formed in 2013 by Richard Sherman to provide students in low-income communities with school supplies and clothing so they can more adequately achieve their goals. Inspired by a significant moment in his life, his childhood idol Magic Johnson came to Dominguez High School in Compton, CA and spoke to Richard and his classmates on the importance of setting and achieving your goals. Since that time, Richard has made it his focus to preach those same sentiments and help students achieve their fullest potential.
About Jump Global Technology Advisors
Jump Global Technology Advisors was founded in May 2020 by CEO Aric Ackerman. The company specializes in procuring, customizing, and premier digital and telecommunications services such as cybersecurity, telecommunications, and next-generation technologies like AI and supercomputing.