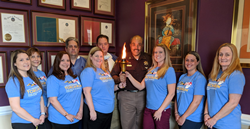 Cieplak Dental Excellence focuses on giving back to their community every chance they get, both near the holidays and throughout the year.
LA PLATA, Md. (PRWEB) January 14, 2020
Dentist, Dr. Patrick Cieplak at Cieplak Dental Excellence, has spent years supporting the local community and its charities. During the recent holiday season, Dr. Cieplak and his team collected wish list items for residents of the Charlotte Hall Veteran's Home (CHVH) and their eligible spouses. Passionate about caring for others, the practice provides advanced treatments for those suffering from missing teeth, gum disease, and other dental concerns in La Plata, MD.
Charlotte Hall Veteran's Home provides assisted living and skilled long-term nursing care for more than 400 Maryland veterans and applicable partners who can no longer take care of themselves. "We are so excited to be able to give back to those that selflessly served our country," explains Cieplak Dental Excellence practice administrator, Sharon Garner.
Cieplak Dental Excellence focuses on giving back to their community every chance they get, both near the holidays and throughout the year. In years past, the team has participated in a food pantry drive and a coat drive. They also raise funds for Special Olympics in the summer. After designating CHVH as their donation organization for 2019, staff members spent a month collecting donations from their own families, as well as patients and their families. The practice's Scheduling Specialist, Nikki, then delivered the donations on behalf of Cieplak Dental Excellence before her daughter's dance recital at CHVH. With both financial donations and personal care items, the Cieplak Dental Excellence team hopes to improve the well-being of military men and women housed at the facility.
Cieplak Dental Excellence has forged a reputation of being passionate about service and care. To that end, the practice offers a variety of compassionate, leading-edge dental options to patients throughout La Plata, MD and neighboring areas. From treating early and advanced gum disease, to placing dental implants, performing routine dental cleanings and providing cosmetic dentistry options, Dr. Cieplak and his staff provide the highest level of care to every patient that walks into their practice. They are also passionate about educating the public on the importance of dentistry, as well as its link to lifelong good health.
Individuals interested in visiting Cieplak Dental Excellence or making an appointment with Dr. Cieplak to discuss the newest treatment options for conditions including gum disease can call the office at 301-609-9999.
About the Dentists
Cieplak Dental Excellence has been offering trusted dental care to patients in the La Plata, MD area for over 30 years. Founder, Dr. Patrick Cieplak, is dedicated to learning the latest dental techniques and has completed thousands of hours of continuing education courses. Dr. Cieplak is one of only 3,000 dentists worldwide to achieve Mastership with the Academy of General Dentistry. He is a Fellow in the International Congress of Oral Implantology as well as Associate Fellow in the American Academy of Implant Dentistry. His associate, Dr. Charniece Whitaker, is a general dentist who received her Doctor of Dental Surgery degree from the University of Maryland School of Dentistry. She strives to always develop her skills and serve her community with minimally invasive and effective techniques. To learn more about Dr. Cieplak, Dr. Whitaker, their team or the services they offer, please visit http://www.patcieplakdds.com or call 301-609-9999 to schedule an appointment.