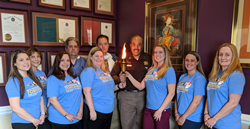 This respect for training and technology overflows in the level of care provided at Cieplak Dental Excellence.
LA PLATA, Md. (PRWEB) November 14, 2019
The dental team at Cieplak Dental Excellence completed their annual OSHA, HIPAA and Bloodborne Pathogens training to stay ahead of the curve on ways to keep patients healthy, safe and protected. The practice and dentists in La Plata, MD pride themselves on promoting the highest-level of safety and security with each patient and every treatment they perform, whether general dentistry or advanced dental implant treatment.
This combination of annual trainings ensures that the dentists and staff at Cieplak Dental Excellence offer and maintain the highest level of excellence when it comes to safe and healthy working conditions. The Occupational Safety and Health Administration (OSHA) training deals with workplace safety by setting and enforcing safe working standards for the team. The Health Insurance Portability and Accountability Act (HIPAA) training establishes data privacy and security protocols to protect medical information of patients in the office. The OSHA sponsored Bloodborne Pathogens training equips the practice with the knowledge on how to prevent the transmission of, or exposure to, blood or other potentially infectious matter such as Hepatitis or HIV.
Dr. Patrick Cieplak requires that his entire team, including the dentists, dental assistants, and office staff, complete this training annually in order to provide patients with the highest level of safety, privacy and care. Practice Administrator, Sharon Garner, recently completed training to become a Certified Dental OSHA Specialist and is excited to lead the practice in this training next year.
In addition to staying current on the latest safety guidelines and trainings, the dentists at Cieplak Dental Excellence stay up to date on modern dental technology and services. With a plethora of advanced technology available in-office, patients can receive gentle, accurate and safe care. Some of the advanced technologies offered include:

Digital x-rays
Intraoral cameras
Topical anesthetic
Operating microscopes
This respect for training and technology overflows in the level of care provided at Cieplak Dental Excellence. The practice offers a variety of treatments to improve both function and aesthetics of the mouth, including teeth-in-a-day dental implants for those with missing or failing teeth. With this procedure, the dentists are able to extract a failing tooth, place a dental implant and restore the tooth all in just one day. Dental implants are the modern solution to tooth loss as they mimic the function and appearance of a natural tooth. After receiving dental implants, patients can eat, speak and smile confidently again.
The dentists at Cieplak Dental Excellence offer comprehensive dental care covering a wide range of services. Patients can seek traditional family dentistry, gum disease care, cosmetic dentistry treatments as well as advanced dental implant solutions. The practice prides itself on offering comfortable and caring dentistry, while ensuring patient trust and safety.
Those interested in learning more about the La Plata, MD dentists or who are seeking dental implants from a practice that values safety, security, and the latest in technology, can schedule a consultation at Cieplak Dental Excellence. To make an appointment, call 301-609-9999 or visit http://www.patcieplakdds.com.
About the Dentists
Cieplak Dental Excellence has been offering trusted dental care to patients in the La Plata, MD area for over 30 years. Founder, Dr. Patrick Cieplak, is dedicated to learning the latest dental techniques and has completed thousands of hours of continuing education courses. Dr. Cieplak is one of only 3,000 dentists worldwide to achieve Mastership with the Academy of General Dentistry. He is a Fellow in the International Congress of Oral Implantology as well as Associate Fellow in the American Academy of Implant Dentistry. His associate, Dr. Charniece Whitaker, is a general dentist who received her Doctor of Dental Surgery degree from the University of Maryland School of Dentistry. She strives to always develop her skills and serve her community with minimally invasive and effective techniques. To learn more about Dr. Cieplak, Dr. Whitaker, their team or the services they offer, please visit http://www.patcieplakdds.com or call 301-609-9999 to schedule an appointment.