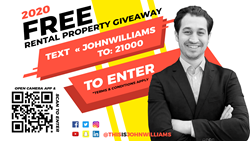 "Could you imagine having a rental property that earns 4 figures a month, every month, month in and month out? Paid off...and all you had to do was subscribe? It's really that easy." - John Williams
LOS ANGELES (PRWEB) February 27, 2020
Los Angeles multi millionaire mogul John Williams has recently announced that he'll be giving away a FREE rental property to one lucky individual once he reaches 250K Youtube subscribers. After over 11 years of hard work in the real estate industry, John has become an expert in producing cash flowing real estate investment properties that have made him into the success he is today.
The rental property giveaway is part of an effort to get people more aware of the potential cash income they could be losing out of if one is not already invested in the property market. John Williams works exclusively mentoring newcomers to the world of property investment. His Youtube channel has generated thousands of likes and shares, and his @thisisjohnwilliams Instagram account has over 312K followers. John Williams has a real estate mentorship program on his website and offers new courses for real estate beginners including partnerships in getting your real estate license online.
John Williams believes that everyone has the power to become successful in the real estate investment market, even without formal training. When asked about John's teaching and methods, a former student, now successful property manager, said: "He teaches you how to become a very successful landlord. How to become a very successful real estate investor."
The goal of the generous real estate property giveaway is to enhance people's understanding of the money they are losing out on by not investing in real estate. John has set a goal of April 11th to gain the 250K Youtube subscribers. At which point, and if not reached before that date, John will select 5 people at random and allow for open voting from the rest of the community to select the final winner of the rental property contest.
In an effort to bring awareness to the rental property giveaway and spark more interest in the property investment market, John has committed to spending 10K a month on advertising his This is John Williams Youtube channel and posting fresh content twice a week to hit the mark of 250K subscribers. When asked about the importance of the investment property giveaway John says, "Could you imagine having a rental property that earns 4 figures a month, every month, month in and month out? Paid off...and all you had to do was subscribe? It's really that easy."
For more information on the John Williams FREE rental property giveaway and how you can leave the daily 9-5 grind for a successful career in property investment, visit https://thisisjohnwilliams.com/ today and change your life! For media inquiries and interviews with John Williams, contact Hanna at Tack Media Digital Agency.