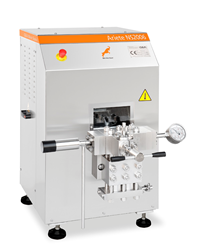 Bedford, NH (PRWEB) July 30, 2015
GEA's Pony™ NS2006L is a high efficiency homogenizer for advanced fluid applications and designed for continuous operation up to 1500 bar. The sanitary design gauge of the NS2006L is well suited for clean-in-place and sterilization-in-place, ensuring safety, efficiency, and preventing toxic contamination.
The Pony™ NS2006L homogenizer is an ideal solution for the processing of nanoparticles, nanodispersions, nanoemulsions and cell dispersions and can be used in many different industries, such as food, dairy, chemical, pharmaceutical, cosmetics, and biotech. It achieves the same results as larger size homogenizers and its compact design allows for easy installation with simple operation, quick maintenance, and is suitable for viscous products. It is compliant to EU safety rules (CE standards) and built according to EN ISO 9001:2008 Quality System.
About GEA:
GEA homogenizers is the global technology and market leader for high pressure pumps and homogenizers. Established in 1947 and part of the GEA Group – one of the leading engineering companies worldwide – GEA homogenizers maintains its leadership position through product innovation, reliability and local presence in order to satisfy customer expectations.
GEA
10 Commerce Park North Unit 7
Bedford, NH 03110
T(603)606-4060
F(603)606-4065
http://www.gea.com