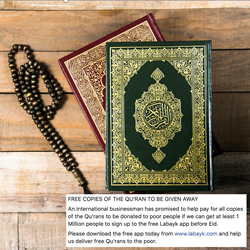 Qur'an is the best gift you can give to any human being
LONDON (PRWEB) June 25, 2020
Labayk, the Islamic social media network, that donates at least half of its profits to charities selected by its users has embarked on one of the greatest giveaways in the history of the internet.
Everybody that signs up to the free social media network Labayk before Eid-ul-Adha 2020 will be able to gain the reward of sadaqah jaariya (voluntary giving) at no cost for the rest of their lives – as the network will be donating free copies of the Glorious Qu'ran in the names of all its users to needy, poor or non-Muslim people.
The social network, whose name literally means 'at your service' decided to launch this campaign after hearing that millions of Muslims will not be able to attend hajj this year, which has now officially been curtailed by the Saudi Arabian government.
Tanweer Khan – CEO and Founder of Labayk said "It is heart-breaking to see that COVID-19 has led to the cancellation of Hajj plans for millions of Muslims. As such, we felt that we needed to do something extra special for the Muslim community. And nothing can be more worthwhile than giving a copy of the Holy Qu'ran to someone".
By downloading the free Labayk app, available on Android and iOS, users are able to interact with other Muslims, including sharing status updates, posting pictures, quotes and stories, as well as sending chat messages, making voice and video calls. All this comes free from Labayk - with absolutely no cost to the user.
Tanweer continued "Most people don't know this but when Facebook first launched, the only thing they offered people was the ability to degrade women by asking men to choose whether a girl was 'hot or not'. Our philosophy is that social media should make a positive impact to society at large and not just be about profits for shareholders".
Labayk has some exciting features being rolled out in the next few months too, so the more users that join Labayk, the more copies of the Qu'ran they can distribute and the more money they can give to charities.
If Labayk can get 1 Million sign ups before Eid, an international businessman has promised to pay for all the copies of the Qu'ran to be donated.
Given the devastating effects from COVID-19, millions of people have lost their livelihoods and their families and children are starving. By signing up to Labayk for free, users can help stop the suffering of the poor, sick and needy.
To learn more about Labayk or to download the free app please visit Labayk.