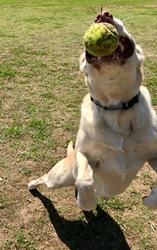 We are so grateful that Dr. E educated us about stem cell therapy. It does work! I have a dog that would happily play fetch with you to prove it!
POWAY, Calif. (PRWEB) October 02, 2018
Stuart is a fun-loving eight-year-old Labrador retriever. Like many labs, Stuart's favorite thing in the world is to play fetch. According to his owner, Cynthia, "He loves playing ball so much that whenever anyone comes to our door, he grabs a toy to greet them, just in case they might want to play a game of fetch." In early 2017, Stuart began limping and eventually could no longer play fetch. Though he was still a happy dog, it was clear that he was in pain.
Cynthia took Stuart to see her veterinarian, Dr. Echevarria of VCA University Animal Hospital in Dallas, Texas. After examination and x-rays, Stuart was diagnosed with soft tissue injuries affecting his carpus (wrist) and shoulder. After trying several traditional therapies including a nonsteroidal anti-inflammatory drug and other oral and injectable pain medications, Dr. Echevarria recommended treatment with VetStem Regenerative Cell Therapy. She gave Stuart's owners some information on the treatment and after much research and deliberation, they decided to move forward with stem cell therapy.
In July 2017, Stuart underwent a minimally invasive procedure in which fat tissue was collected from his abdomen. The tissue was aseptically packaged and sent to the VetStem laboratory in Poway, California. VetStem lab technicians processed the fat to concentrate and extract the stem cells and created injectable doses of Stuart's own stem and regenerative cells. After quality checks were performed, the doses were shipped back to Dr. Echevarria who received and injected them approximately 48 hours after the initial fat collection. Stuart received injections into his carpus and shoulder as well as intravenously.
Cynthia reported that approximately one week after his stem cell injections, Stuart was almost a completely different dog. She stated, "He felt better and had spring in his step. Actually, the toughest part of the process is trying to keep him from jumping and playing during the healing time. Stu felt so much better, he was almost like a puppy! It was truly amazing!" Perhaps best of all, Cynthia reported that Stuart was able to get back to what he loved the most: playing fetch. She said, "We are so grateful that Dr. E educated us about stem cell therapy. It does work! I have a dog that would happily play fetch with you to prove it!"
Now, well over a year after the procedure, Cynthia reports that Stuart is still doing great. He can run and play without limping or being in pain. And of course, he is still playing fetch. Cynthia stated, "Stem cell therapy was really a blessing for Stu. It added years to his life."
Stem cells are regenerative cells that can differentiate into many tissue types; they have been shown to reduce pain and inflammation, help to restore range of motion, and stimulate regeneration of tendon, ligament and joint tissues.
About Cindy Echevarria, DVM
Dr. Echevarria received her DVM from Ross University, with her clinical year at Purdue University. She then returned to the NY/NJ area to start her first position at a day/emergency practice for about a year prior to moving to Dallas in 2008. She has been practicing in the Dallas-Forth Worth area since then. She also works at an emergency clinic on the weekend. Dr. Echevarria has been VetStem Credentialed since 2015.
About VetStem Biopharma, Inc.
VetStem Biopharma is a veterinarian-lead Company that was formed in 2002 to bring regenerative medicine to the profession. This privately held biopharmaceutical enterprise, based near San Diego, California, currently offers veterinarians an autologous stem cell processing service (from patients' own fat tissue) among other regenerative modalities. With a unique expertise acquired over the past 15 years and 17,000 treatments by veterinarians for joint, tendon or ligament issues, VetStem has made regenerative medicine applications a therapeutic reality. The VetStem team is focused on developing new clinically practical and affordable veterinary solutions that leverage the natural restorative abilities present in all living creatures. In addition to its own portfolio of patents, VetStem holds exclusive global veterinary licenses to a large portfolio of issued patents in the field of regenerative medicine.