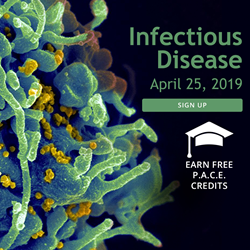 YORBA LINDA, Calif. (PRWEB) April 18, 2019
LabRoots, the leading scientific social networking website, offering premier, interactive educational virtual events and webinars, will be producing its inaugural Infectious Disease Virtual Conference on April 25, 2019, featuring an agenda on the Stories and Lessons of the Past, Current Challenges and Controversies, and Emerging Tools and Methods about Infectious Disease.
The Infectious Disease 2019 Virtual Event is an exclusive conference that will discuss and exchange thoughts, developments and information on emerging and re-emerging infections. The Infectious Disease planning committee has carefully planned and selected impressive keynote speakers and industry experts that will lead thought-provoking discussions surrounding the range of topics on insights and challenges of infectious disease.
This online conference will provide a single day packed with presentations from academia and industry speakers such as outstanding keynote speaker, Dr. Stephen S. Morse, PhD, FAAM, F.A.C.E., Professor of Epidemiology, Director, Infectious Disease Epidemiology Certificate, Columbia University, Mailman School of Public Health, who will be presenting on The Next Pandemic during the Current Challenges and Controversies track. His research interests focus on epidemiology and risk assessment of infectious diseases. Morse was appointed in 2014 to the U.S. government's National Science Advisory Board for Biosecurity (NSABB) and serves as Director of the Infectious Disease Epidemiology. He has served and contributed on improving early disease warning systems to numerous government and international organizations. His seminal book, "Emerging Viruses" (Oxford University Press, 1993), was selected by American Scientist for its list of "100 Top Science Books of the 20th Century."
"We once thought infectious diseases were a thing of the past, but they're still very much with us," says keynote speaker Stephen Morse, PhD, FAAM, F.A.C.E., Professor of Epidemiology, Director, Infectious Disease Epidemiology Certificate, Columbia University, Mailman School of Public Health. "We even have surprises, such as HIV, SARS, Zika, and pandemic influenza – "emerging infections". To this day, no pandemic or emerging infection has ever been predicted. We have to do better; our survival may depend on it."
Participants will also be able to hear from keynote speaker, Colleen Kraft, MD, Associate Professor of Pathology & Laboratory Medicine, Emory University School of Medicine. Kraft was one of the physician leaders in the effort at Emory Hospital to receive and care for patients who had contracted Ebola virus disease in West Africa. She was also the lead author on the paper describing the initial hospital course of the critically ill patients, and their experience with two experimental drugs for Ebola virus disease, TKM-100802 and convalescent plasma. Dr. Kraft will discuss the Ebola virus and its future implications during the Infectious Disease Event.
The other seven expert speakers comprising the event include, Meredith Ashby, PhD, Director of Market Strategy for Microbial and Cancer Genomic at Pacific Biosciences; Matthew Flegal, BS, SRS, Senior Associate Scientist, Behavioral Pharmacology and Surgery at Biogen; Christina Muzny, MD, MSPH, FACP, Associate Professor of Medicine and Epidemiology, Division of Infectious Diseases of University of Alabama at Birmingham; Faramarz Valafar, PhD, Director & Professor, Biomedical Informatics Research Center, Laboratory for Pathogenesis of Clinical Drug Resistance and Persistence at San Diego State University; Corey Watson, PhD, Assistant Professor, Department of Biochemistry and Molecular Genetics, University of Louisville School of Medicine, and a sponsored presentation by Chembio, given jointly by Krishnan Allampallam, PhD, Global Marketing Director of Chembio Diagnostic Systems and Paul Lambotte, PhD, Vice President of Research & Development, Chembio Diagnostic Systems. For the complete event agenda, click here.
"We are really excited about this new event," says Tracy Salcido, Vice President of LabRoots. "We hope that this event will aid in accelerating the sharing of information, which will, in turn, lead to the prevention of the spread of infectious diseases."
Like all LabRoots events, participants can earn free continuing education credits. Following each presentation, viewers can click on the educational credit link provided for that specific speaker and follow the required process. Upon completion, you will receive a certificate for the educational credit.
For more information or to register for the event, click here. Participants can join the conversation online by using #LRinfectious.
About LabRoots
LabRoots is the leading scientific social networking website, offering top scientific trending news and premier educational virtual events and webinars. Contributing to the advancement of science through content sharing capabilities, LabRoots is a powerful advocate in amplifying global networks and communities. Founded in 2008, LabRoots emphasizes digital innovation in scientific collaboration and learning. We have become a primary source for trending scientific news, webinars, virtual conferences and more. Offering more than articles and webcasts that go beyond the mundane and explore the latest discoveries in the world of science, LabRoots users can stay atop their field by gaining continuing education credits from a wide range of topics through their participation in the webinars and virtual events.