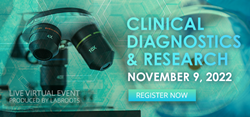 YORBA LINDA, Calif. (PRWEB) November 03, 2022
Labroots, the leading scientific social networking website offering premier, interactive virtual events and webinars, today announced its 13th annual Clinical Diagnostics & Research virtual event. On November 9th, an audience comprised of clinicians, research scholars, top scientists, academia and industry professionals and pharma and biotech will gather under a virtual roof to learn from recognized speakers driving innovation in diagnostics and precision medicine.
For over a decade, this online event has served as a premier meeting place for the clinical diagnostics, research and laboratory medicine communities. And, once again Labroots' Clinical Diagnostics & Research 2022 will deliver on its commitment of breaking science in the areas of emerging diagnostic technologies, perspectives on SARS-CoV-2 and Monkeypox, precision medicine and special populations, and the lab's role in advancing equity. Don't miss a minute of the cutting-edge 4-track scientific agenda with convenient on-demand viewing.
The educational program highlights include (but not limited to):

Keynote presentation titled, "Implementation of Serological and Molecular Tools to Inform COVID-19 Patient Management", with a live Q&A session, presented by Dr. Jennifer Taher. "Although it's been several years since the initiation of the COVID-19 pandemic, there's still a lot we don't know," commented Dr. Jennifer Taher, FCACB, Clinical Biochemist, Mount Sinai Hospital, Pathology & Laboratory Medicine; Assistant Professor, University of Toronto, Laboratory Medicine and Pathobiology, Co-Lead, GENCOV. "It's important to identify groups that are at risk of poor outcomes and optimize patient management. This is exactly what the GENCOV study aims to do."
Presentations readily on-demand for immediate viewing when the event is live pertaining to some discussions on the benefits of having faster next generation sequencing data in outbreak settings, the use of PCR tiling for Monkeypox sequencing, the methods used in the detection of autoantibodies associated with IIM, equity in laboratory medicine, and the Monkeypox virus and its characteristics from the current outbreak.
The advantages of bioinformatics solutions and computational variant classification will be explored, and how to scale to comprehensive profiling while reducing cost, time and labor during QIAGEN sponsored presentations.
Multiple panel presentations sponsored by Thermo Fisher Scientific on topics covering disruption in ART adherence and impact on emerging ART drug resistance mutations, the current market state of molecular testing with a key focus on pharmacogenomics, HIV-1 genotyping targeting integrase – perspectives on surveillance of antiretroviral drug resistance, and the technical challenges of standard urine culture (SUC) in identifying uropathagens, and much more!
Produced on Labroots' robust platform, this online event allows participants to connect seamlessly across desktop and mobile devices and delivers a complete educational experience. The interactive environment includes a lobby equipped with a leaderboard and gamification, an auditorium featuring live-streaming video webcasts with live attendee chats during scheduled presentations, an exhibit hall to interact with sponsors highlighting their recent contributions in the field, a poster hall to explore date and engage in live chat conversations complete with a poster competition, and a networking lounge to encourage collaborations with colleagues. By participating, there is a potential to earn up to 1 P.A.C.E. Continuing Education credit per presentation for a maximum of 30 credits. To register for the event click here.
Remember to use the hashtag #LRclinical to follow the conversation and connect with other members of the global Clinical & Molecular Dx Community!
Follow @Diagnostics_LR on Twitter and @ClinicalandMolecularDiagnostics.LR on Facebook to connect with our specialist Clinical & Molecular Dx Writers and stay up to date with the latest Trending News in Clinical & Molecular Dx. Join our Clinical & Molecular Dx Interest Group on LinkedIn to connect with us, and the wider professional community!
About Labroots
Labroots is the leading scientific social networking website, and primary source for scientific trending news and premier educational virtual events and webinars and more. Contributing to the advancement of science through content sharing capabilities, Labroots is a powerful advocate in amplifying global networks and communities. Founded in 2008, Labroots emphasizes digital innovation in scientific collaboration and learning. Offering more than articles and webcasts that go beyond the mundane and explore the latest discoveries in the world of science, Labroots users can stay atop their field by gaining continuing education credits from a wide range of topics through their participation in the webinars and virtual events. Now, Labroots offers more than ever with Chati, a flexible, highly scalable event platform that allows for the creation of unique, effective, and memorable virtual events.