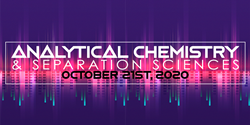 YORBA LINDA, Calif. (PRWEB) October 15, 2020
LabRoots, the leading scientific social networking website, offering premier, interactive virtual events and webinars, today announced that its third annual Analytical Chemistry & Separation Sciences event is set for October 21, 2020, assembling a forum of distinguished experts to exchange ideas, discuss best practices and highlight the challenges unique to the analytical chemistry fields.
Many within the scientific community and beyond know that Analytical Chemistry & Separation Sciences 2020, hosted and produced by LabRoots is a premier event, providing a collaborative, all-inclusive interactive platform for attendees – leading academia and industry professionals, top scientists, chemists and research scholars, introducing the most recent advances within the analytical chemistry field. Featuring noteworthy speakers representing scientific disciplines including, analytical techniques for biopharmaceuticals, analytical techniques for environmental and food testing, and small molecule and polymer analysis and detection, the agenda promises to highlight such outstanding contributions.
The program will look closely at topics such as automated consistency analysis of metabolomic and proteomic data in interlaboratory studies, cannabis testing labs – how the quality control in testing laboratories impacts the whole cannabis industry, developing a complete workflow including N-Linked Glycans analysis for monoclonal antibodies with high resolution mass spectrometry and fluorescence detection, overcoming challenges analyzing heavy metals in Cannabis by ICP-MS, the importance of analytical instrumentation for food safety, overcoming the challenges in pesticide detection in food, and the modification and analytical characterization of polyol based polymers for ice recrystallization inhibition and thermal hysteresis activity, and much more.
An informative presentation on the use of dispersive solid phase extraction in the analysis of pesticides in cannabis matrix will start the day presented by Adam Floyd, Commercial Operations Manager for Think20 Laboratories. Following, Dr. Yongfeng Ai, Assistant Professor and Carbohydrate Research Chair at the University of Saskatchewan, will share a keynote delivery titled: 'Functional properties and digestibility of starch and flour under high-temperature cooking conditions.' Ai aims for participants to understand the functionalities and digestibility of starches at high heating temperatures as measured jointly by DSC, RVA 4800, and texture analyzer, gain a greater understanding of how different processing and modification methods influence the functional attributes and digestibility of starches and flours, and to acquire a new knowledge on the behaviors of flours at high cooking temperatures as revealed by the three instruments.
"Analytical Chemistry & Separation Sciences 2020 is a global event for revealing new areas of research and development while bringing rising technologies to the forefront solving the most demanding analytical challenges," said Greg Cruikshank, Chief Executive Officer of LabRoots. "After a successful event in 2019, we are proud to serve as an educational stage once again for experts working in these exciting areas."
Produced on LabRoots' robust platform with the capability to connect across all desktop and mobile devices, the virtual environment encompasses a lobby, auditorium, poster hall, exhibit hall (highlighting the latest array of products and technologies), and networking lounge allowing a shared, complete educational experience for all participants. LabRoots, an approved provider of continuing education programs in the clinical laboratory sciences by the ASCLS P.A.C.E Program, offers the opportunity to earn 1 Continuing Education Credit per presentation for a maximum of 30 credits.
For more information or to register for the event, click here. Use #LRanalyticalchem to follow the conversation!
About LabRoots
LabRoots is the leading scientific social networking website, and primary source for scientific trending news and premier educational virtual events and webinars and more. Contributing to the advancement of science through content sharing capabilities, LabRoots is a powerful advocate in amplifying global networks and communities. Founded in 2008, LabRoots emphasizes digital innovation in scientific collaboration and learning. Offering more than articles and webcasts that go beyond the mundane and explore the latest discoveries in the world of science, LabRoots users can stay atop their field by gaining continuing education credits from a wide range of topics through their participation in the webinars and virtual events.