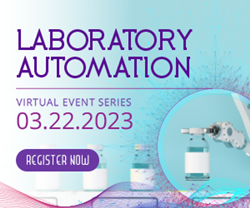 YORBA LINDA, Calif. (PRWEB) March 16, 2023
Labroots, the leading scientific social networking website, offering premier, interactive virtual events and webinars, is delighted to host its 7th annual Laboratory Automation event on March 22, 2023. This free online event brings together thousands of research scholars, laboratory managers, scientists, and experts from leading academic and industry institutions globally to explore disciplines with emerging topics ranging from microfluidics: current and upcoming technologies, automation and new methods to achieve it, and compliance with laboratory software, LIMS and automation, and cyber security.
The informative agenda comprises over a dozen presentations discussing the latest advancements regarding instrumentation and methodologies used to increase the efficiency and effectiveness of research in the lab. Participants will learn from renowned speakers sharing their direct insights on cost-effective automation of common ELISA assays, how and informatics tool, such as a LIMS, can help secure sensitive data and prevent cyberattacks, the role of a LIMS in a quality management system, microfluidics in single cell applications, microfluidics platforms for high throughput in vivo screening, the advantages and disadvantages of the SIFT technology, optimize your PCR, and much more.
Conference highlights span keynote and sponsored talks (not limited to):

A lively Q&A session, following the presentation sponsored by GenScript, titled, "Automated Tolls to Achieve Consistency, Reliability and Efficiency for Plasmid and Protein Purification, Western Blotting, and Cell Isolation."
Panel Presentation sponsored by Thermo Fisher Scientific on Enzymes for Advancing Point of Care Diagnostics and the best enzymes and products for PCR-and isothermal-based assays.
Panel Presentation sponsored by eLabNext on Lab Automation – Taking Lab Digitization to the Next Level, with live Q&A.
Panel Presentation sponsored by Opentrons exploring Lab Automation and Community Tools to Support Global Science, with live Q&A.
Two keynote deliveries with lively Q&A sessions from these stellar presenters: Dino Di Carlo, PhD, Professor of Bioengineering at UCLA, discussing the importance of probing cellular functions, such as single-cell secretions, and Benjamin Yellen, PhD, Co-Founder, CEO at Celldom exploring live single cell biology at ultra-high throughput for applications in T Cell potency and small molecule drug testing.
"We have developed a powerful new tool in our lab-on-a-particle technology that allows us to capture cells and analyze their secretions in unprecedented detail," said Dino Di Carlo, Professor of Bioengineering at UCLA. "With our 3D-shaped hydrogel microparticle platforms, we can sort cells based on their secreted products and use this information to discover new antibodies, develop cell lines, and select functional cells for therapies. Our secretion encoded single-cell sequencing (SEC-seq) workflow links the transcriptomes of single cells to their secreted products, enabling us to uncover gene networks associated with high secretion of immunoglobulin G and other key factors. With this technology, we have characterized a unique transcriptionally-defined cluster of mesenchymal stromal cells (MSCs) that secrete higher levels of vascular endothelial growth factor (VEGF), a pro-regenerative growth factor that is thought to drive therapeutic benefit in MSC-based therapeutics. I am excited to share our latest results along with other thought-leaders speaking on Labroots' platform and discuss the potential for nanovial technology to revolutionize the field of cell therapies," concluded Di Carlo.
"Techniques for measuring live single cells are essential for surveying the functional diversity cell populations. However, to date it is been challenging to perform time lapse measurements on millions of single cells over the course of many days, which is necessary to find drug resistant cells or to quantify the potency of adoptive T cells against a target antigen," said Ben Yellen, CEO of Celldom. "In this talk, I will discuss how we have approached this problem by combining microwell technology with high throughput imaging, deep learning-based video classification, and clone retrieval, with the goal of providing a universal platform for future discovery tools and QC workflows for applications in the emerging space of cell and gene therapies."
Produced on Labroots' robust platform while connecting across all desktop and mobile devices, the online event encompasses a lobby equipped with a leaderboard and gamification feature, an auditorium hosting live-streaming video webcasts with live attendee chats during scheduled presentations, an exhibit hall highlighting recent contributions and connections in real-time with booth representatives, a poster hall to explore data and engage in live chats with poster authors coupled with a poster competition giving your research a competitive edge, and a networking lounge to encourage collaborations with colleagues.
Labroots is an approved provider of continuing education programs in the clinical laboratory sciences by the ASCLS P. A.C.E. ® Program. By attending this event, you can earn 1 Continuing Education Credit per presentation for a maximum of 30 credits.
To register for the event, click here. Participants can use the official hashtag #LRlabauto to follow the conversation and connect with other members of the Laboratory Automation community! Follow @CellBiology_LR on Twitter and @CellandMolecularBiology.LR on Facebook to connect with our specialist Cell & Molecular Biology Writers and stay up to date with the latest Trending Science News.
About Labroots
Labroots is the leading scientific social networking website, and primary source for scientific trending news and premier educational virtual events and webinars, and more. Contributing to the advancement of science through content sharing capabilities, Labroots is a powerful advocate in amplifying global networks and communities. Founded in 2008, Labroots emphasizes digital innovation in scientific collaboration and learning. Offering more than articles and webcasts that go beyond the mundane and explore the latest discoveries in the world of science, Labroots users can stay atop their field by gaining continuing education credits from a wide range of topics through their participation in the webinars and virtual events. Labroots offers more than ever with Chati, a flexible, highly scalable event platform that allows for the creation of unique, effective, and memorable virtual events.