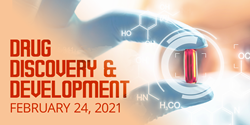 YORBA LINDA, Calif. (PRWEB) February 18, 2021
LabRoots, the leading scientific social networking website offering premier, interactive virtual events and webinars, is delighted to announce an invaluable forum for interdisciplinary exchange at the forefront of innovative technologies, and novel diagnostics and therapeutics in drug research during its free Drug Discovery & Development Virtual Event, scheduled February 24th.
Drug Discovery & Development 2021 provides leading academia and industry experts, research scholars, clinicians, laboratory managers and medical professionals the opportunity to share their research findings about all aspects of new practices in early phase drug discovery, novel advancements to clinical development, modern approaches to discovery, preclinical and clinical lab operations in COVID-19 Age, and biomarkers in drug development. The jam-packed agenda delivers informational presentations enabling participants to grasp the latest developments in different areas of drug discovery and clinical research, while serving as a catalyst to improve the understanding and advancements in such an ever-changing field.
This year's event will highlight two keynote deliveries, kicking off the one-day program with a discussion on "The biomarker to companion diagnostic continuum: a road map for the delivery of precision medicine," exploring key factors in the development of biomarker assays and requirements for transition to companion diagnostic applications, presented by Steven M. Anderson, PhD, Chief Scientific Officer at Covance Drug Development.
"The promise of precision medicine has currently been demonstrated in Oncology with many examples of novel targeted and immuno-oncology therapies and associated diagnostics," commented, Dr. Steven M. Anderson, Chief Scientific Officer, Covance Drug Development. "As a better understanding of the biology of cancer and other disease states increases, the opportunities for precision medicine will grow. Much of this understanding will be driven by developing diagnostic technologies and biomarker discovery and validation. Expansion of precision medicine has also been supported by new therapeutic approaches such as gene replacement therapy for rare diseases and adoptive cell therapies for in cancer. We are at an important inflection point for the delivery of precision medicine with the convergence of new therapeutic approaches and diagnostic technologies, all of which will provide significant benefit for patients," Anderson added.
Next, a keynote panel presentation will be shared titled, "Biomarker assays – bioanalytical meets CLIA," by both Andrew Roche, PhD, Senior Director, Scientific Affairs and Roger Hayes, PhD, Vice President, Bioanalytical Services, at ICON Laboratory Services to provide guidance on how to identify the most effective biomarkers, and discuss what level of validation is required to measure a biomarker?
Following in the afternoon session, attendees will be able to identify some of the challenges to screening G protein-coupled receptors (GPCRs) and describe some of the emerging technologies being used during a roundtable panel presentation named, "Recent trends in screening GPCR's."
Annette Gilchrist, Planning Committee Chairman and Associate Professor, Pharmaceutical Sciences, Midwestern University said, "I am honored to moderate a panel of renowned scientists representing both industry and academia who are working on G protein coupled receptors (GPCRs) for the LabRoots Drug Discovery Virtual Event.
"GPCRs are an important family of receptors, involved in the physiology and pathophysiology of many diverse diseases. Understanding their pharmacology continues to engage scientists globally, and diverse technologies are used to identify novel ligands for GPCRs. With a focus on recent trends in screening GPCRs, we will discuss some of the methods employed when using phenotypic assay, specifically the use of cellular thermal shift assays and mass spectrometry for target deconvolution. We will share methods being used to screen for ligands that target GPCR oligomers such as bioluminescence resonance energy transfer (BRET). The advancements in GPCR structures and emerging role of GPCRs in cancer will also be explored," added Gilchrist.
This premier event highlights outstanding preclinical drug discovery and new progress in drug research and pharmaceutical sciences via scheduled and on-demand lectures by renowned speakers, on stable cell line catalog products for drug discovery, COVID's impact on life sciences recruiting, evolution of a platform-based non-clinical safety assessment approach for vaccines, non-clinical COVID-19 vaccine development during a pandemic, the comprehensive A.I.-driven genomic landscape for ALS, to name a few.
"We are thrilled to maintain our commitment of sharing unique insights, revolutionary research, and critical advancements to the scientific community via our virtual educational platform," said Greg Cruikshank, Chief Executive Officer of LabRoots. "This year, our annual Drug Discovery & Development event will continue the tradition of the successful conferences from previous years showcasing scientific discoveries, cutting-edge advances and innovative approaches by world leaders in their respective fields to improve drug discovery going forward."
Produced on LabRoots' robust platform, while connecting across all desktop and mobile devices, the interactive environment offers one-stop collaboration complete with a lobby, auditorium, exhibit hall (driving innovations and highlighting the latest products and technologies), poster hall, and a networking lounge providing an enriched learning experience for all attendees. By participating and attending this event, Continuing Education credit (1 per presentation) can be earned for a maximum of 30 credits.
For more information or to register for the event, click here. Use #LRdrug to follow the conversation!
About LabRoots
LabRoots is the leading scientific social networking website, and primary source for scientific trending news and premier educational virtual events and webinars and more. Contributing to the advancement of science through content sharing capabilities, LabRoots is a powerful advocate in amplifying global networks and communities. Founded in 2008, LabRoots emphasizes digital innovation in scientific collaboration and learning. Offering more than articles and webcasts that go beyond the mundane and explore the latest discoveries in the world of science, LabRoots users can stay atop their field by gaining continuing education credits from a wide range of topics through their participation in the webinars and virtual events.