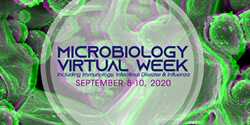 YORBA LINDA, Calif. (PRWEB) September 03, 2020
LabRoots, the leading scientific social networking website offering premier, interactive virtual events and webinars, today announced its annual Microbiology Virtual Week event taking place on September 8-10th. While attracting more than 12,000 attendees on a global basis, the three-day program promises to highlight more than 40 speakers, including 8 prominent keynote presenters sharing thought-provoking discussions to better understand, treat and ultimately prevent infectious and immunologic diseases, and engage in basic, clinical, and epidemiologic sciences.
With the emergence of new pathogens and the increasing development of drug resistance, exploring the latest developments and data in these topic areas is crucial coupled with the goal to educate and bring together research scientists, clinicians, healthcare professionals, infectious disease experts, laboratory technicians and leading industry and academia to discover new techniques that can benefit your research.
Our lineup stages a diverse group of distinguished speakers with stellar expertise in the fields of immunology, virology, microbiology, respiratory viruses and modeling approaches, each sharing unique insights on the following sessions: plant response to disease, bacterial immunologies, vertebrate adaptive immune systems, immunopathology, antimicrobial resistance, novel respiratory virus vaccines, microbiome-based diagnostics and therapeutics, evolution and heterogeneity within biofilms, machine-learning approaches, and predicting pathogen evolution, naming a few.
Under one roof, Microbiology Virtual Week 2020 features prominent keynotes during each day, highlights:

Peter Palese, PhD, Professor and Chair Department of Microbiology, Professor in Department of Medicine and Infectious Diseases, Icahn School of Medicine at Mount Sinai: "A Universal Influenza Virus Vaccine"
Jesse D. Bloom, PhD, Associate Professor, Fred Hutch Cancer Research Center, Investigator, Howard Hughes Medical Institute: "Single-cell virus sequencing of influenza infections that trigger innate immunity"
Barney S. Graham, MD, PhD, Deputy Director, Vaccine Research Center, Chief, Viral Pathogenesis Laboratory, NIAID (National Institute of Allergy and Infectious Diseases): "Structure-based Vaccine Design for COVID-19 and other Respiratory Viruses"
Detlef Weigel, Executive Director, Max Planck Institute for Developmental Biology: "Causes and consequences of immune gene diversity in plants"
James Crowe, MD, Director, Vanderbilt Vaccine Center: "Human Monoclonal Antibodies for Emerging Agents"
K. Leigh Greathouse, PhD, MPH, MS, RD, Assistant Professor, Baylor University: "Discovery of a gene-microbiome interaction in lung cancer: lessons learned and future directions"
Gael Kurath, PhD, Research Virologist, Fish Health Section, USGS Western Fisheries Research Center: "Evolution of host-specific virulence in an RNA virus of Pacific salmonid fish"
K. Eric Wommack, Fellow American Academy for Microbiology, Deputy Dean and Assoc. Dean for Research & Graduate Education, College of Agriculture & Natural Resources, University of Delaware: "Squeezing out understanding from sequences: Genome to Phenome Connections in Viruses of Microbes"
"While we are living with and in a new pandemic, COVID-19, other infectious diseases have not ceased to exist causing widespread morbidity and mortality," said Peter Palese, Professor & Chair Dept. of Microbiology, Professor, Dept. of Medicine and Infectious Diseases, Ichan School of Medicine at Mount Sinai. "It is important not to forget these "old" infectious diseases and even consider the possibility that the "old" and "new" pathogens together will be responsible for complex clinical outcomes and further put pressure on our health care system. LabRoots' platform will provide us with a comprehensive picture of what is going on in the field and how we can try to protect us from these disease-causing pathogens."
"We're thrilled to produce Microbiology Virtual Week, a truly transformative three-day educational experience where participants will immerse themselves in the latest findings to make a major impact in patient care, on saving lives, and preventing diseases," said Greg Cruikshank, Chief Executive Officer of LabRoots. "While hosting so many influential leaders in the biomedical field, LabRoots continues to leave a mark in the scientific community and bringing content-rich events to our audience; under this umbrella, attendees will find everything they need to stay informed."
Produced on LabRoots' interactive platform, this online environment with lobby, auditorium, exhibit and poster halls, and networking lounge allows attendees to connect seamlessly across all desktop and mobile devices and enjoy live-streaming video and chat sessions. By participating in this event, you can earn 1 Continuing Education credit per presentation for a maximum of 50 credits.
For more information or to register for the event, click here. Participants can follow the conversation online by using #LRmicro.
About LabRoots
LabRoots is the leading scientific social networking website, and primary source for scientific trending news and premier educational virtual events and webinars and more. Contributing to the advancement of science through content sharing capabilities, LabRoots is a powerful advocate in amplifying global networks and communities. Founded in 2008, LabRoots emphasizes digital innovation in scientific collaboration and learning. Offering more than articles and webcasts that go beyond the mundane and explore the latest discoveries in the world of science, LabRoots users can stay atop their field by gaining continuing education credits from a wide range of topics through their participation in the webinars and virtual events.