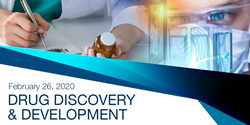 YORBA LINDA, Calif. (PRWEB) February 20, 2020
LabRoots, the leading scientific social networking website offering premier, interactive virtual events and webinars, will be focused on covering "State-of-the-Art" areas and drug development models in the Biotech and pharmaceutical current landscape during its free, one-day Drug Discovery & Development Virtual Event.
Drug Discovery & Development 2020 provides exciting opportunities for scientists, research scholars, academia and industry, and medical professionals to offer a unique program on new practices in early phase drug discovery, advances in biomarkers, and modern approaches for clinical development comprising two keynote deliveries on the discovery and development of a novel first-in-class resuscitative agent, and emerging drug combinations – the evolution form pre-clinical discovery to clinical development.
The purpose of this year's conference is to highlight outstanding preclinical drug discovery and new progress at the forefront of drug research and pharmaceutical sciences. Throughout the agenda, renowned speakers will describe their insights, challenges and novel findings via keynotes and on-demand discussions in topic areas such as exploring alternative In-Vitro approaches, organ-on-a chip and 3D cultures in screening, and PK/PD modeling and simulation.
A valuable and important platform for prominent speakers to debate the newest scientific advances to help shape existing and future challenges in drug research, highpoints will include 3D-Micro tissues in translational toxicology and disease modeling, human tissue models for better therapies, PDX-derived organoids – a revolutionary new tool for drug screening, proliferation and cell death biomarkers for oncology research, and how might urinary biomarkers and precision dosing create precision medicine for the most frequently utilized antibiotic in the hospital?
"The committee is grateful to this unprecedented group of leaders who will provide us not only with insights on leading-edge technologies but also practical experiences to help solve challenges we often face," said Annette Gilchrist, Planning Committee Chairman.
"LabRoots is known for its interactive approach by creating virtual events where significant stakeholders get together. We continue to share our mission of learning and discovering together through new knowledge and thought-provoking presentations," said Tracy Salcido, Vice President of LabRoots. "There is a vast amount of worthwhile information regarding the aspects of drug discovery and development and we're delighted to share the latest data that contributes to human health and well-being."
Produced on LabRoots' robust platform, the collaborative online event plus exhibit and poster hall, and dedicated networking opportunities allows attendees to learn and connect seamlessly across all desktop and mobile devices. By participating and attending this event, Continuing Education credit (1 per presentation) can be earned for a maximum of 30 credits.
For more information or to register for the event, click here. Use #LRdrug to follow the conversation!
About LabRoots
LabRoots is the leading scientific social networking website, and primary source for scientific trending news and premier educational virtual events and webinars and more. Contributing to the advancement of science through content sharing capabilities, LabRoots is a powerful advocate in amplifying global networks and communities. Founded in 2008, LabRoots emphasizes digital innovation in scientific collaboration and learning. Offering more than articles and webcasts that go beyond the mundane and explore the latest discoveries in the world of science, LabRoots users can stay atop their field by gaining continuing education credits from a wide range of topics through their participation in the webinars and virtual events.