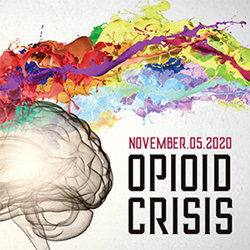 YORBA LINDA, Calif. (PRWEB) October 29, 2020
LabRoots, the leading scientific social networking website, offering premier, interactive virtual events and webinars, today announced its new virtual event, Opioid Crisis to be held on November 5th, 2020. Free to attend, this high-level forum is designed to inform and raise awareness about critical substance use prevention and effective standards of care and showcase innovative strategies and practices to manage the opioid epidemic.
Opioid overdose deaths in the United States have increased dramatically over the past decade and continues to gain national attention. Key academia is actively engaged in this battle to enhance medical education and clinical care to physicians about pain management and substance use disorders (SUDs) to respond to this crisis. This program, bringing together thousands of leaders from industry and academic institutions, research scholars, clinicians, healthcare and behavioral professionals, includes a variety of informative topics such as medications for opioid use disorder, stigma surrounding opioid use disorder, informatics and opioid stewardship, and health system delivery of opioid use disorder treatments.
The full line up of notable speakers will concentrate on many facets of opioid response while exploring buprenorphine induction strategies and comparing traditional and home induction methods and identifying appropriate patient populations for each method, stigma toward medication assisted treatment (MAT) and articulating the components of stigma, understanding the three types of stigma and how stigma can impact social support, the disease state model of substance use disorder and the evidence surrounding common misconceptions regarding substance use disorder, the importance of educating patients and their physicians on opioid use: lessons learned from medical cases, and compliance to pain management test results based in prescriptions and the important pain management medications in use today and the routes of metabolism, and how to interpret pharmacogenomics variances in the genes that encode cytochrome P450 with relevance to pain medication, to round out the day.
An impressive keynote delivery kicks off the event presented by Professor Bertha Madras (the Honorable) titled, 'The Opioid Crisis: Made in America…Fade in America.' "Opioid overdose deaths in the United States are approximately nine times higher than in the European Union. The opioid crisis was made in America, but when will it fade in America? Initially catalyzed by misuse of prescription drugs, from 2010 onwards the cause of deaths began to shift with the advent of inexpensive heroin and fentanyl marketed to opioid-seeking populations. The COVID-19 pandemic is fueling this unprecedented crisis, with 2020 predicted to witness at minimum, an 8% rise in drug-related deaths," said Bertha Madras, Professor of Psychobiology at Harvard Medical School and Director of the Laboratory of Addiction Biology at McLean Hospital. "The LabRoots' presentation will highlight the complex origins of the crisis, outline the need to reverse engineer initial mistakes in the healthcare system, and describe broadly-based solutions, along with challenges to implementation: rising normalization of drug use, persistent barriers to effective treatment, and COVID-related disruptions of normalcy."
In addition to the featured expert discussions, a panel presentation: 'The NIH HEAL Initiative: A Bold Interagency Response to the Opioid Crisis,' highlights the program schedule describing the Helping to End Addiction Long-TermSM Initiative, or NIH HEAL InitiativeSM, a trans-NIH research effort focused on improving prevention and treatment of opioid misuse and addiction and enhancing pain management. Attendees will learn firsthand how the NIH HEAL Initiative is addressing unmet research needs to curb the opioid crisis and understand the extent of the U.S. opioid epidemic, and how widespread use of prescription opioids and the lack of effective pain treatment fueled the crisis.
"Dealing with opioid addiction is one of the most significant problems the U.S. and the health system faces today, and we are pleased to add this topic of crucial interest to our event schedule this year," commented Greg Cruikshank, Chief Executive Officer at LabRoots. "LabRoots' one-stop platform continues to deliver educational sessions to the scientific community while bringing vital issues to the forefront - specifically discussing in depth the history of opioids, addressing the impact of opioid abuse, and defining clinical approaches to treating substance use disorder to aid in managing and reducing the opioid epidemic and improve the health of our communities."
Produced on LabRoots' robust platform with the capability to connect across all desktop and mobile devices, the interactive environment encompasses a lobby, auditorium, poster hall, exhibit hall, and networking lounge allowing a complete educational experience for all participants. As an approved provider of continuing education programs in the clinical laboratory sciences by the ASCLS P.A.C.E. Program, LabRoots offers the opportunity to earn 1 Continuing Education Credit per presentation for a maximum of 14 credits.
To register and for more information, click here. Use #LRopioids to follow the conversation!
About LabRoots
LabRoots is the leading scientific social networking website, and primary source for scientific trending news and premier educational virtual events and webinars and more. Contributing to the advancement of science through content sharing capabilities, LabRoots is a powerful advocate in amplifying global networks and communities. Founded in 2008, LabRoots emphasizes digital innovation in scientific collaboration and learning. Offering more than articles and webcasts that go beyond the mundane and explore the latest discoveries in the world of science, LabRoots users can stay atop their field by gaining continuing education credits from a wide range of topics through their participation in the webinars and virtual events.