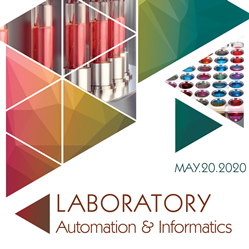 YORBA LINDA, Calif. (PRWEB) May 14, 2020
LabRoots, the leading scientific social networking website, offering premier, interactive virtual events and webinars, is pleased to bring together research scholars, innovators, top scientists, life science professionals, engineers and informatics specialists from around the world to attend its free, online Laboratory Automation & Informatics event scheduled on May 20, 2020, aimed to improve the science and practice of laboratory automation and technology.
Following on the success of 2019, the Laboratory Automation & Informatics 2020 conference will focus on practical strategies and technologies related to high throughput biology, microfluidics enabling automation, and method validation and LIMS. This year's online forum will include a blend of leading academia and industry expert speakers promising an end to end program sharing expertise in every session leaving attendees with tools and insights to address the needs and challenges in the laboratory.
You won't want to miss engaging in enlightening discussions centered around topics including, gene editing by a "click-of-a-button," unique droplet microfluidic technology to automate the digital PCR workflow, the strategic and commercial key criteria for a Lab 4.0 solution and the benefit of an end to end workflow, current approaches to single-cell secretion analysis, single cell genomics tools for better understanding and treatment of human disease, the validation of LIMS as a part of the data integrity and which tools to use, zero-effort analytical method validation in a lab environment, and next-gen protein assays enabling precision medicine and data-driven biology, and much more, to further round out the agenda.
Kicking off the day, the following two stellar academic professionals will present keynote presentations on their novel research and findings:
Abraham (Abe) Lee, Professor, Professor, Biomedical Engineering and Mechanical and Aerospace Engineering at the University of California, Irvine; Director, NSF I/UCRC Center for Advanced Design & Manufacturing of Integrated Microfluidics (CADMIM), and serves as Editor-in-Chief for the Lab on a Chip journal, will speak to "Bridging Multiscale Physiological Systems via Microfluidics-from single cell to tissue-scale to organ-scale," explaining the approaches for microfluidics to tap into the current cellular and immune-therapies, in the session of high throughput biology.
"Since microfluidics has proven to be a valuable tool to operate at the "live" single cell level, it is ideal to both scale-up towards organ-level functions and scale-down towards genomics and proteomics expressions for a complete picture of the physiological health status," said Dr. Abraham "Abe" Lee, Professor, Department of Biomedical Engineering, University of California, Irvine. "The future of microfluidic precision medicine will enable patients to have access to their own health information in real-time and provide personalized options to help them live lives to their fullest. During the LabRoots conference you will learn about the advances in research labs that are rapidly moving into the clinic, and even the home-based medical solutions as the shelter-in-place orders are inevitably accelerating these developments."
Dr. Adam Abate, Associate Professor at the University of California, San Francisco will address "Quantitative biology with droplet microfluidics," and describe the application of microfluidics to bottom-up cell community assembly and the familiarization with microfluidic methods for single-cell multi-omics analysis, in the session of microfluidics enabling automation.
Dr. Adam Abate, Associate Professor, University of California, San Francisco commented, "We believe high throughput single cell analysis will transform research and medicine and microfluidics and automation approaches will be critical to facilitating the process."
"We are committed to providing our participants with an unmatched conference experience, and the shared knowledge presented by these renowned speakers further ignites LabRoots' commitment to providing exceptional content offered year after year while exploring new innovations and discussing the future of the laboratory science and technology field," said Tracy Salcido, Vice President of LabRoots.
Produced on LabRoots' robust platform with the capability to connect across all desktop and mobile devices, the virtual environment is tightly focused with a lobby, auditorium, poster hall, exhibit hall (highlighting the latest array of products and technologies), and networking lounge allowing an interactive learning experience for all participants. LabRoots, an approved provider of continuing education programs in the clinical laboratory sciences by the ASCLS P.A.C.E Program, offers attendees the opportunity to earn 1 Continuing Education Credit per presentation for a maximum of 30 credits.
For more information or to register for the event, click here. Use #LRlabauto to follow the conversation!
About LabRoots
LabRoots is the leading scientific social networking website, and primary source for scientific trending news and premier educational virtual events and webinars and more. Contributing to the advancement of science through content sharing capabilities, LabRoots is a powerful advocate in amplifying global networks and communities. Founded in 2008, LabRoots emphasizes digital innovation in scientific collaboration and learning. Offering more than articles and webcasts that go beyond the mundane and explore the latest discoveries in the world of science, LabRoots users can stay atop their field by gaining continuing education credits from a wide range of topics through their participation in the webinars and virtual events.