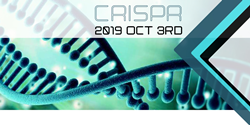 YORBA LINDA, Calif. (PRWEB) September 26, 2019
LabRoots, the leading scientific social networking website offering premier, interactive virtual events and webinars, will host its 2nd Annual CRISPR Virtual Event, on October 3, 2019. Since the first conference was held in 2018, research has continued to advance rapidly, however many questions remain about the science, applications, and the use of biotechnological techniques for editing genomes.
CRISPR 2019 resumes the global dialogue on these issues by bringing together a broad range of participants including biomedical researchers, academia and industry, and renowned scientists to explore topics such as CRISPR Biology, CRISPR in Gene Editing Applications, and Ethical and Regulatory dimensions and concerns of Gene Editing.
CRISPR has evolved into various technologies for basic research with new applications. Now, in its 2nd year, this premier event focused on the discovery and classification of CRISPR systems, gene therapy, animal model development for medical research, agriculture and food security will feature eleven prominent speakers, and a keynote delivery by Dr. Marie-Christine Birling, Head Associate of the Genetic Engineering and Model Validation Department at the Institut Clinique de la Souris on generating rodent model by CRISPR/Cas9 genome editing.
"CRISPR generates a high level of interest," said Dimitri Perrin, Senior Lecturer in Data Science, Queensland University of Technology and member of the organizing committee. "Research in this area intersects with a number of disciplines, from the basic biology of CRISPR systems to applications in gene editing (for instance in model organisms, health or agriculture) and reflections on how to ethically use and adequately regulate these technologies. It has been a pleasure to work with LabRoots to bring you an exciting program of excellent researchers across these domains," added Perrin.
"Our inaugural conference was a huge success," said Greg Cruikshank, Chief Executive Officer of LabRoots. "CRISPR 2019 returns highlighting momentum and recent progress made in gene editing and biotechnology and its potential moving forward. LabRoots continues to be dedicated to developments in life sciences using its unique stage for sharing data and research critical to the scientific community."
LabRoots' interactive platform allows attendees to watch, learn and connect seamlessly across all desktop and mobile devices. By joining this online event, viewers can earn one Continuing Education credit per presentation for a maximum of 14 credits.
To register for the event and for more information, click here. Participants can follow the conversation online by using #LRcrispr.
About LabRoots
LabRoots is the leading scientific social networking website, and primary source for scientific trending news and premier educational virtual events and webinars and more. Contributing to the advancement of science through content sharing capabilities, LabRoots is a powerful advocate in amplifying global networks and communities. Founded in 2008, LabRoots emphasizes digital innovation in scientific collaboration and learning. Offering more than articles and webcasts that go beyond the mundane and explore the latest discoveries in the world of science, LabRoots users can stay atop their field by gaining continuing education credits from a wide range of topics through their participation in the webinars and virtual events.