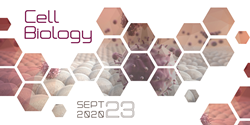 YORBA LINDA, Calif. (PRWEB) September 17, 2020
LabRoots, the leading scientific social networking website offering premier, interactive virtual events and webinars, will be hosting its Cell Biology Virtual Event, scheduled on September 23, 2020. This day-long forum marks the fourth annual event that will attract innovative researchers, top scientists, biologists, and leading academia and industry from across the globe.
Emphasizing the principals and fundamentals of biology, the one-day program features four sessions encompassing Organelle Dynamics, Cell Biology of Cancer, Extra Cellular Matrices, and Exosomes convening global leaders to present their latest progress in cell research. Discussions on transformative new technologies and applications in the field will be unveiled via over 15 scientific presentations on topics such as the role of Nox-derived Reactive Oxygen Species in Axonal Growth and Guidance, the journey into discovery oncology at the crossroad of cell biology, Extracellular Matrix in Renal Development and Cancer, GeoMx Digital Spatial Profiling read-out for Next-Generation Sequencers with the Cancer Transcriptome Atlas (CTA), Extracellular Vesicles and Chronic Kidney Disease, and Beyond the Culture Flask: How Membrane- and Microfluidic-based Platforms can create more Physiologically Relevant Tissue Culture Systems, naming a few.
This year's first keynote address will be given by internationally recognized Muller Fabbri, MD, PhD, Associate Professor, Co-Leader Cancer Biology Program, University of Hawai'i Cancer Center, explaining how MicroRNAs in Extracellular Vesicles orchestrate the biology of the Tumor Microenvironment. The program's second keynote will be delivered by Steve Caplan, PhD, Professor and Vice Chair for Administration, Dept. of Biochemistry and Molecular Biology, Director, UNMC Advanced Microscopy Core Facility on sorting out the mechanisms of endocytic recycling. Following, Benedetta Bussolati, Associate Professor of Nephrology, University of Torino, President of the Italian Society for Extracellular Vesicles, and internationally known for her studies of stem cell biology and regenerative medicine, will explore Extracellular vesicles in Regenerative Medicine during her keynote presentation. Lastly, the final keynote talk presented by Kenneth W. Witwer, PhD, Associate Professor, Molecular and Comparative Pathobiology, John Hopkins University of School of Medicine will explore starting at the source: tissue extracellular vesicles and Alzheimer's disease.
"This Cell Biology event produced by Labroots includes different tracks on the most exciting approaches to understand Cell Biology, ranging from exosome/extracellular vesicles to proteomics and cancer biology," said Dr. Laura Perin, Assistant Professor at the Keck School of Medicine, University of Southern California, and Planning Committee Member. "The Committee is grateful to the high caliber leaders and experts that will share insights and novel research which are fundamental in advancing the field of medicine bringing innovative avenues for the discovery of new treatments for our patient populations."
"Cell Biology 2020 is committed to continuing our unique tradition of bringing the scientific community together providing the discovery, innovation, and medical advances that drive biomedical research forward," said Greg Cruikshank, Chief Executive Officer of LabRoots. "For the 4th consecutive year, we're delighted to showcase some of the brightest minds in cell science on the agenda, while offering cutting-edge educational content for our attendees on a global front."
The online event produced on LabRoots' signature platform allows participants to learn and connect seamlessly across all desktop and mobile devices. Featuring up-to-date emerging findings from the field in the auditorium, poster and exhibit halls, and a networking lounge to foster collaborations, Cell Biology 2020 delivers an all-inclusive interactive environment. By attending this event, you can earn 1 Continuing Education credit per presentation for a maximum of 30 credits.
To register for the event and for more information, click here. Participants can follow the conversation online by using #LRcellbio.
About LabRoots
LabRoots is the leading scientific social networking website, and primary source for scientific trending news and premier educational virtual events and webinars and more. Contributing to the advancement of science through content sharing capabilities, LabRoots is a powerful advocate in amplifying global networks and communities. Founded in 2008, LabRoots emphasizes digital innovation in scientific collaboration and learning. Offering more than articles and webcasts that go beyond the mundane and explore the latest discoveries in the world of science, LabRoots users can stay atop their field by gaining continuing education credits from a wide range of topics through their participation in the webinars and virtual events.