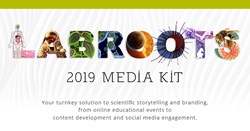 YORBA LINDA, Calif. (PRWEB) September 25, 2018
LabRoots, the leading provider of interactive and educational virtual events and webinars for researchers, scientists and doctors from around the world, announces their 2019 lineup of virtual events as they release their new 2019 media kit.
Along with the 14 virtual events returning to the lineup, LabRoots will be adding four additional virtual events, including Bioprocessing, Infectious Diseases, Forensics and Toxicology and Influenza. These 18 one- and two-day online events will feature a succession of industry leaders, research studies and experts in the respective fields.
Attendees will have the opportunities to earn complimentary continuing education and continuing medical education credits as they watch events live or on demand. Each virtual conference is produced on LabRoots robust virtual platform where attendees can meet and network in the lounge and peruse the virtual poster hall or exhibit floor.
"We are excited to release our new 2019 media kit and lineup of virtual events and other digital marketing opportunities such as webinar sponsorship, email rentals, online advertising targeting tag word content, and much more," said Dave Galuppo, vice president of sales and marketing at LabRoots. "We feel the new additions in our virtual event series, as well as the 14 returning events, will provide a great global resource where users gain a better understanding about research and discovery in their respective fields."
Along with the virtual event series, LabRoots offers a wide range of stand-alone webinar options and custom content campaigns for companies wishing to reach and resonate with researchers or lab managers in a number of scientific spheres. To see the complete lineup of virtual events or review the opportunities to advertise with LabRoots, download our media kit here.
ABOUT LABROOTS
LabRoots is the leading scientific social networking website, offering top scientific trending news and premier educational virtual events and webinars. Contributing to the advancement of science through content sharing capabilities, LabRoots is a powerful advocate in amplifying global networks and communities. Founded in 2008, LabRoots emphasizes digital innovation in scientific collaboration and learning. We have become a primary source for trending scientific news, webinars, virtual conferences and more. Offering more than articles and webcasts that go beyond the mundane and explore the latest discoveries in the world of science, LabRoots users can stay atop their field by gaining continuing education credits from a wide range of topics through their participation in the webinars and virtual events.