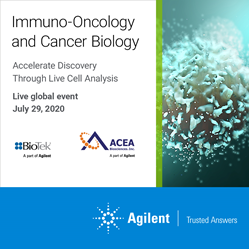 SANTA CLARA, Calif. (PRWEB) July 28, 2020
Agilent and the newest members of the Agilent family, BioTek Instruments and ACEA Biosciences, are bringing together world-leading cell analysis experts, immunologists and scientists at the Immuno-Oncology & Cancer Biology Live Virtual Event, July 29, 2020, to explore the latest innovations in cancer immuno-therapies and cancer biology.
Real-time, live cell analysis tools that accurately probe and interpret immune cell parameters are at the frontier of the immune-oncology therapies currently being developed. Similarly, 3D cell culture technologies, particularly those that form spheroid and organoid models, are pivotal in understanding how tumor cells develop and behave.
At this virtual conference, Agilent, BioTek and ACEA, will be showcasing several of these cell analysis innovations relevant to cancer biology, via product launches, software demos, and scientific posters. There will be the opportunity to live chat with product experts from all three companies.
Eleven expert speakers and many on-demand presentations will contribute to a full scientific program of presentations throughout the day. The line-up includes, Cancer Immunologist Ping-Chih Ho, PhD from the Lausanne, Switzerland branch of the Ludwig Institute for Cancer Research; Pediatric Hematologist-Oncologist Christopher DeRenzo, MD, from St. Jude Children's Research Hospital, Houston, Texas; and Fabio Cerignoli, PhD, Senior Field Application Scientist at Agilent Technologies.
Todd Christian, Vice President of Agilent's Cell Analysis Division extends a warm welcome to join us on July 29th and adds, "We hope you will find your time here to be informative, valuable, and enjoyable!"
Produced on LabRoots' robust platform, this interactive environment with an exhibit hall, poster hall and an Education Center, allows attendees to connect seamlessly across all desktop and mobile devices. By joining this online event, viewers can earn Continuing Education credits during presentations.
For more information or to register for the event, click here.
For Research Use Only. Not for use in diagnostic procedures.
About LabRoots
LabRoots is the leading scientific social networking website, as well as a primary source for scientific trending news, premier educational virtual events/webinars and more. Contributing to the advancement of science through content sharing capabilities, LabRoots is a powerful advocate in amplifying global networks and communities. Founded in 2008, LabRoots emphasizes digital innovation in scientific collaboration and learning. Offering articles and webcasts that go beyond the mundane and explore the latest discoveries in the world of science, LabRoots users can stay atop their field by gaining Continuing Education Credits from a wide range of topics through their participation in the webinars and virtual events.