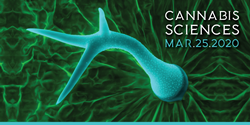 YORBA LINDA, Calif. (PRWEB) March 19, 2020
LabRoots, the leading scientific social networking website offering premier, interactive virtual events and webinars, is bringing together thousands of cannabis industry leaders, research scientists, manufacturers, medical professionals and academia from all around the word. The online, free Cannabis Sciences Virtual Event will promote research and collaboration to support the rapidly developing industry, while offering knowledge of emerging topics, current innovations, and policy issues in the landscape today.
The scientific program highlighting more than 20 renowned expert speakers including three keynote deliveries, and an informative parent panel sharing "Current Challenges Facing Parents Using Cannabis in Pediatric Conditions" will comprise the agenda with thought-provoking lectures and discussions.
Featured important sessions on Medical Cannabis: Therapeutic Updates, Quality Control, Regulatory Landscape – Beyond the US, Evolving Laboratory Landscape, Hemp Science and Testing, and the Advancement in Cultivation and Extraction Methods and Technology will be explored as the conference highlights the science, challenges and technology updates behind the ever-changing cannabis market.
Cannabis Sciences 2020 continues to build upon the successes of prior events and returns with in-depth educational contributions kicking off with several keynote addresses, first by Dr. Debra Kimless, Medical Director, ForwardGro sharing steps needed to conduct clinical trials in a highly challenging and federally illegal environment and understanding how clinical trials validate cannabis. Closely following, Dr. James Eaves, Professor at Laval University examines how the cannabis market is driving the development of intelligent farming and the future of agriculture. Rounding out the talks, the "Contemporary Healer's Responsible Conversation" introduced by Dr. Jeffrey Block, Founder, Nurturing Nature Group and Professor at the University of Miami Miller School of Medicine provides a significant, comprehensive discovery of endogenous cannabinoid receptors indicating the efficacy of medical cannabis for the treatment of pain.
Additional notable speakers focus on areas such as the implications of certified seed for the industrial hemp and cannabis industries, vaping risks and product safety, challenges to starting a new cannabis lab, risk and economic tradeoffs related to the cannabis drying process, and the role of LIMS in automating in-house testing workflow and managing QC samples, naming a few.
"This year's event marks our 3rd in a continuing series on the evolving field of Cannabis in industry, science and medicine. We are grateful to our group of thought leaders and medical experts for their willingness to share their insights and practical experience in the Medical Cannabis space," said Kenton Crowley, Pharm.D., Planning Committee Chairman.
"We are excited and pleased that so many influential leaders from the Cannabis industry are committed to our agenda," said Tracy Salcido, Vice President of LabRoots. "The breadth of expertise and leadership represented during Cannabis 2020 will allow for unprecedented insights into the dynamic cannabis space, while furthering LabRoots' commitment of offering insightful discussions and unique networking opportunities."
Produced on LabRoots' robust platform, this interactive environment with exhibit and poster halls, and networking lounge allows attendees to connect seamlessly across all desktop and mobile devices. As an approved provider of continuing education programs, by attending this event, Continuing Education credit (1 per presentation) can be earned for a maximum of 20 credits.
For more information or to register for the event, click here. Participants can follow the conversation online by using #LRcannabis.
About LabRoots
LabRoots is the leading scientific social networking website, and primary source for scientific trending news and premier educational virtual events and webinars and more. Contributing to the advancement of science through content sharing capabilities, LabRoots is a powerful advocate in amplifying global networks and communities. Founded in 2008, LabRoots emphasizes digital innovation in scientific collaboration and learning. Offering more than articles and webcasts that go beyond the mundane and explore the latest discoveries in the world of science, LabRoots users can stay atop their field by gaining continuing education credits from a wide range of topics through their participation in the webinars and virtual events.