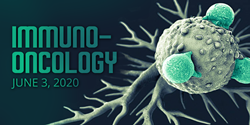 YORBA LINDA, Calif. (PRWEB) May 28, 2020
LabRoots, the leading scientific social networking website, offering premier, interactive virtual events and webinars, today announced its new scientific event, Immuno-Oncology to take place on June 3rd, 2020. Free to attend, Immuno-Oncology provides a comprehensive view into novel immuno-therapies and technologies for the benefit of patients who fight cancer disease, while revolutionizing the treatment of cancer.
Cancer immunotherapy has made an astounding giant leap in the last few years of advancing treatments to enable a patients' immune system to attack cancer. This setting will bring together thousands of innovative leaders from industry and academia, researchers, clinicians, oncologists, top scientists and healthcare professionals globally to learn about emerging modalities, and preclinical approaches to the discovery and validation of new immune-oncology combinations.
With a full day committed to the up-to-date trends in Immuno-Oncology, exploring current opportunities and challenges in immunotherapeutic modalities, emerging targets for novel immuno-oncology therapy, and presenting the development and clinical applications of cancer immunotherapies, the program is jam-packed with informative research to fight cancer.
The impressive opening keynote deliveries include the following Immuno-Oncology pioneers:
Sumit Subudhi, MD, PhD, Assistant Professor, Genitourinary Medical Oncology, at the University of Texas MD Anderson Cancer Center, will address the development of rational immunotherapy combinations to overcome the immunosuppressive prostate tumor microenvironment.
Alexander David Borowsky, MD, Professor, Pathology and Laboratory Medicine, Center for Immunology, UC Davis Comprehensive Cancer Center, will review patterns and mechanisms of the tumor immune microenvironment and promote active interest in the evolving field of cancer immunotherapy as a personalized medicine approach.
Thomas Grogan, MD, Professor Emeritus of Pathology, University of Arizona, Founder and Chief Scientific Advisor Emeritus, Ventana Medical Systems, Inc. a division of Roche, will explain the concepts of tumor immuno-surveillance and the importance of tissue chemistry in immunity-oncology.
Stephen Hodi, MD, Director of the Melanoma Center and the Center for Immuno-Oncology, Dana Farber Cancer Institute, Professor of Medicine, Harvard Medical School identifying patients and biomarkers predictive of responses to checkpoint blockage, and combinatorial approaches to immunotherapy: Melanoma as the example.
Highlighting more than 15 leading experts offering perspectives on topics such as high throughput biomarker profiling for immuno-oncology research, multiplexed immunofluorescent imaging, live cell imaging of adherent immune cells, roles of neoantigen peptides in personalized medicine, gene manipulation in human immune cells, clinical benefits and challenges associated with checkpoint blockade, clinical development of immunotherapy in urothelial cancer, tissue-based biomarker development for immuno-oncology therapy, barriers to immune cell response to cancer, primary and adaptive resistance to immunotherapy, and the importance of B cells and tertiary lymphoid structures in human cancer, aims to accelerate the growing space of cancer immunotherapies.
"We are living in very exciting times in the context of oncology, but more so with a deeper understanding of the interaction between tumors and the immune system and the reveal of unique therapeutic approaches to treat cancer," said Greg Cruikshank, Chief Executive Officer. "Marking its debut, LabRoots is thrilled to add Immuno-Oncology 2020 to our event schedule this year to expand our depth in the scientific community and deliver innovative breakthroughs and discoveries in the promising field of cancer immunotherapy."
Produced on LabRoots' robust platform with the capability to connect across all desktop and mobile devices, the online environment encompasses a lobby, auditorium, poster hall, exhibit hall (driving innovations and highlighting the latest array of products and technologies), and networking lounge allowing an interactive educational experience for all participants. As an approved provider of continuing education programs in the clinical laboratory sciences by the ASCLS P.A.C.E. Program, LabRoots offers participants the opportunity to earn 1 Continuing Education Credit per presentation for a maximum of 30 credits.
To register and for more information, click here. Use #LRimmuno to follow the conversation!
About LabRoots
LabRoots is the leading scientific social networking website, and primary source for scientific trending news and premier educational virtual events and webinars and more. Contributing to the advancement of science through content sharing capabilities, LabRoots is a powerful advocate in amplifying global networks and communities. Founded in 2008, LabRoots emphasizes digital innovation in scientific collaboration and learning. Offering more than articles and webcasts that go beyond the mundane and explore the latest discoveries in the world of science, LabRoots users can stay atop their field by gaining continuing education credits from a wide range of topics through their participation in the webinars and virtual events.