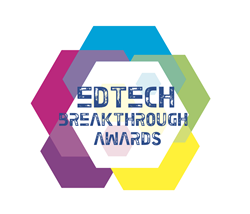 "Labster democratizes science by giving any student with a laptop access to a million dollar lab regardless of their background or geographic location."
LOS ANGELES (PRWEB) June 09, 2021
EdTech Breakthrough, a leading market intelligence organization that recognizes the top companies and solutions in the global educational technology market, today announced that Labster, the award-winning producer of virtual laboratory simulations, has been selected as winner of the "Overall STEM Education Solution Provider of the Year" award in the third annual EdTech Breakthrough Awards program.
Labster's gamified virtual labs provide hands-on engaging experiences that foster engaged learning and facilitate critical thinking, problem solving, analysis and synthesis - all without the risks inherent in a physical lab. These virtual lab experiences are driven by storylines that help students apply their skills in a real-world context.
Labster has helped millions of students and thousands of high schools, colleges, and universities rapidly transition to online learning. By scaling their backend servers, Labster has been able to support more students and safeguard everyone's data.
Additionally, Labster saves instructors valuable time by automatically grading embedded quiz questions and giving students the background knowledge and practice they need to avoid common, time-consuming mistakes that extend the duration of lab periods. Students are not just sitting in front of the computer watching a video of someone lecturing to them; they're engaged and playing which results in motivation.
"When the pandemic closed schools in 2020, Labster responded by offering all high schools free or heavily discounted access to our virtual lab simulations. This enabled schools to continue to offer a high-quality science education to students who would otherwise have had no access to a laboratory," said Michael Bodekaer Jensen, Founder & CEO of Labster. "As a result of this offer, we provided virtual labs to 20 times more students in 2020 than in the year before. Labster is guided by our mission to empower the next generation of scientists to change the world, and in that same vein, we are thankful to EdTech Breakthrough for this incredible award."
The mission of the EdTech Breakthrough Awards is to honor excellence and recognize the innovation, hard work and success in a range of educational technology categories, including Student Engagement, School Administration, Adaptive Learning, STEM Education, e-Learning, Career Preparation and many more. This year's program attracted more than 2,000 nominations from over 17 different countries throughout the world.
"Educational opportunities in STEM are unequally distributed. Some students attend high schools, colleges, and universities with advanced laboratories and enough instructors, time, and space to give them hands-on experience in a wet lab. Others are not so lucky," said James Johnson, managing director, EdTech Breakthrough. "Labster democratizes science by giving any student with a laptop access to a million dollar lab regardless of their background or geographic location. Congratulations to the whole Labster team on winning our 'Overall STEM Education Solution Provider of the Year' award."
During the global COVID-19 pandemic, Labster dramatically expanded its customer support team, extended their hours and provided a series of weekly implementation webinars. Additionally, Labster's pricing is competitive and typically lower than the cost of providing physical lab kit supplies for each student.
####
About EdTech Breakthrough
Part of Tech Breakthrough, a leading market intelligence and recognition platform for global technology innovation and leadership, the EdTech Breakthrough Awards program is devoted to honoring excellence in educational technology products, companies and people. The EdTech Breakthrough Awards provide a platform for public recognition around the achievements of breakthrough educational technology in categories including e-learning, student engagement, school administration, career preparation, language learning, STEM and more. For more information, visit EdTechBreakthrough.com.
About Labster
Labster is dedicated to developing fully interactive virtual laboratory simulations that are designed to stimulate students' natural curiosity and highlight the connection between science and the real world. The simulations can be used in a variety of different ways, from a full lab replacement to a supplemental learning activity. Labster works in collaboration with over 2,000 colleges, universities and high schools around the world, including MIT, Yale, ETH Zürich, the University of Cambridge, and Imperial College. To join the team or learn more, visit careers.labster.com or labster.com.