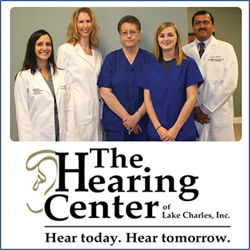 In my 28 years of wearing hearing aids I've had several audiologists in several states. You are the best I've ever had.
Lake Charles, LA (PRWEB) July 19, 2013
The Hearing Center of Lake Charles, known as the premiere provider of hearing aids in Lake Charles LA, is please to announce they have added LACE as a new service for local residents. LACE is an acronym for Listening And Communication Enhancement. It focuses on the comprehension side of hearing because even people with normal hearing can be poor listeners.
LACE is an interactive computerized training program that helps improve your ear-to-brain muscle memory conceived by leading audiologists. It is an internet-based program completed at home on your own time but track by your audiologist who discuss your results and progress with you.
LACE has already helped thousands of people who live with some degree of hearing loss increase their listening skills by up to 45%. Just as physical therapy can help rebuild physical strength and compensate for weakness, LACE can assist in developing listening, communication, and interaction skills.
To get more information about participating in the Lake Charles LA Listening And Communication Enhancement (LACE) program, contact Dr. Nileshwar or his team by email or phone.
About Dr. Ram Nileshwar, Au.D.:
Dr. Ram Nileshwar has been a practicing audiologist in Lake Charles for over 29 years. He has been with The Hearing Center of Lake Charles since its inception in 1987. He received his Bachelor's degree in Audiology and Speech Therapy from the University of Bombay, India, his Master's degree in Audiology from Western Michigan University, and his Doctor of Audiology degree (Au.D.) from Arizona School of Health Sciences of A.T. Still University. Dr. Nileshwar holds the Certificate of Clinical Competence in Audiology from the American Speech-Language-Hearing Association and is a fellow of the American Academy of Audiology. He specializes in hearing rehabilitation, including the fitting of both conventional and advanced digital hearing devices. He has expertise in diagnostic audiology, including the evaluation and management of disorders of hearing and balance.
About The Hearing Center of Lake Charles, Inc.:
The Hearing Center of Lake Charles, Inc. has provided hearing aids in Lake Charles, LA and its surrounding communities for several years. The company offers a full range of diagnostic and preventative hearing healthcare professional services, including hearing aid screening, evaluations, hearing aids sales and rehabilitative and preventative counseling. The staff is dedicated to keeping abreast of the latest improvements in technological advancements in the hearing industry and is committed to offering the most current options to the patients.
Contact:
Dr. Ram Nileshwar
http://hearingmatters.biz
The Hearing Center of Lake Charles, Inc.
1919A Southwood Drive
Lake Charles, LA 70605
(337) 214-4422
The Hearing Center of Lake Charles, Inc.
801 S Pine St.
DeRidder, LA 70634
(337) 214-4422