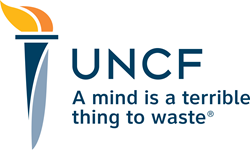 "With the support of our loyal partners such as the KAT Team Foundation, the inaugural walk for education will lead the charge in a year-long campaign of giving for our local students, said Ngozi Emenyeonu, area development director, UNCF."
NEWARK, N.J. (PRWEB) September 10, 2018
#LaceUp4UNCF (United Negro College Fund) at the inaugural Newark walk for education on September 22, 2018 at Brookdale Park. Close to 500 public, corporate and community leaders will go the extra mile in providing a quality education to area students, including special guest Karl-Anthony Towns of the Minnesota Timberwolves.
"Now more than ever, a college education is vitally important," said Michael L. Lomax, president and CEO, UNCF. "By investing in our students now, we are providing them with a path to success that will pay future dividends for them, for their families and for all of us."
Physical and Mental Health and Wellness serves as the theme of this year's walk for education, making it possible for UNCF to award 10,000 scholarships a year through 400 programs to students at 900 colleges and universities, including UNCF's 37-member institutions. In collaboration with KAT Team Foundation, UNCF New Jersey hopes to raise awareness and funding for students to get to and through college.
"We are ecstatic about the bringing this signature UNCF event to our area," said Ngozi Emenyeonu, area development director, UNCF. "With the support of our loyal partners such as the KAT Team Foundation, the inaugural walk for education will lead the charge in a year-long campaign of giving for our local students."
Whether you register individually or form a team, there are activities for everyone, including live entertainment, food trucks and plenty more.
#LaceUp4UNCF in Newark by registering at http://www.UNCF.org/Newark
About UNCF
UNCF (United Negro College Fund) is the nation's largest and most effective minority education organization. To serve youth, the community and the nation, UNCF supports students' education and development through scholarships and other programs, strengthens its 37 member colleges and universities, and advocates for the importance of minority education and college readiness. UNCF institutions and other historically black colleges and universities are highly effective, awarding nearly 20 percent of African American baccalaureate degrees. UNCF awards more than $100 million in scholarships annually and administers more than 400 programs, including scholarship, internship and fellowship, mentoring, summer enrichment, and curriculum and faculty development programs. Its logo features the UNCF torch of leadership in education and its widely recognized motto, "A mind is a terrible thing to waste, but a wonderful thing to invest in."® Today, UNCF supports more than 60,000 students at more than 1,100 colleges and universities. Learn more at UNCF.org or for continuous news and updates, follow UNCF on Twitter @UNCF.