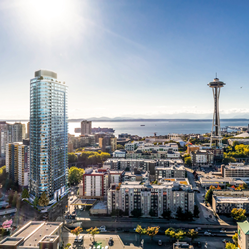 SEATTLE (PRWEB) December 09, 2020
Executives of Laconia Development, Vanke USA, and Realogics International Realty (RSIR) today announced newly released inventory and price improvements for select residences as part of a final presale release at Spire Condominiums. The 41-story, 343-unit tower located at 600 Wall Street in Belltown was recently topped off with occupancy scheduled to begin in April 2021.
The new promotions accompany Spire's dazzling refresh of its sales gallery and newly installed model home, located at 2218 5th Avenue, by appointment. With some homes nearing completion, future homeowners and brokers may also schedule hard hat tours to experience the building and witness its stunning wraparound views firsthand.
Sample Spire listings with sharpened presale pricing include a 1-bedroom floor plan now starting from $474,950 and a 2-bedroom floor plan with parking included now priced from $1,069,950. A luxurious 3-bedroom penthouse floor plan has also just been repriced to $3,399,950. In addition to the newly priced inventory, buyers and brokers can now view a representative collection of new Spire listings on the Northwest Multiple Listing Service (NWMLS) as follows:
Unit 406 | 1 Bed / 1 Bath | 531 SF | $474,950
Unit 806 | 1 Bed / 1 Bath | 531 SF | $535,950
Unit 907 | 1 Bed / 1 Bath | 564 SF | $575,950
Unit 905 | 1 Bed / 1 Bath | 596 SF | $649,950
Unit 701 | 1 Bed / 1 Bath | 765 SF | $699,950
Unit 802 | 2 Bed / 2 Bath | 1,154 SF | $1,069,950
Unit 1008 | 2 Bed / 2 Bath | 1,188 SF | $1,169,950
Unit 3901 | 3 Bed / 3 Bath | 1,991 SF | $3,399,950
Representing a diversity of plan types and price points, the aforementioned inventory showcases the features that make the condominium homes at Spire so unique in the marketplace, such as the building's grand 9- to 10-foot ceiling heights and floor-to-ceiling windows that frame the expansive and enduring views of Elliott Bay and the Seattle city skyline.
The current presale opportunity includes an additional incentive for both home buyers and their real estate agents. Buyers will have homeowner's association dues prepaid by the seller for all of 2021 for any new mutually accepted purchase agreements by the end of 2020. Brokers will also enjoy 50% commission advances, including incremental commission increases of up to 4% in aggregate for those brokers who conclude multiple sales.
These promotions arrive at a time when the Dow Jones Industrial Average has reached an all-time high following positive news about an impending COVID vaccine and election results, helping to boost consumer confidence and prospect buyer's liquidity. At the same time, mortgage interest rates are at record-setting lows, helping with purchasing power.
The included table illustrates the relative affordability of price points led by the one-bedroom residences.*
Representatives report increased interest at Spire of late, especially from local tech professionals, many of whom already rent in the area and are eager to settle into the neighborhood more permanently while taking advantage of the numerous benefits of home ownership. Since December 1, 2020 four recent sales ranging from $902,825 to $1,384,950 ($1,018 - $1,525 per sq. ft.) have been secured
"Spire is certainly a standout in the skyline and these new promotions make it stand out in the market too," stated Ami Bumia, Sales Director for Spire and listing broker with RSIR. "Our buyers recognize the unique opportunity afforded by this one-of-a-kind location and our enviable market timing. We are very confident in the market fundamentals of downtown Seattle and savvy consumers will look back a few years from now and recognize this value, especially considering the rising cost of construction."
Spire is located in a prime downtown Seattle location within walking distance to the major tech campuses of Amazon, Facebook, Apple and Google. Bumia notes the new offering will be particularly attractive to in-city tech workers that are currently renting as record-low mortgage rates line up with peaking stock values at tech companies, especially those exercising restricted stock units (RSUs).
"This is truly an unprecedented opportunity for renters to leverage their purchasing power and lock down this presale pricing while choosing from their preferred selection of homes," adds Bumia. "We are also offering rent protection in the event that a buyer needs to terminate their lease once Spire is ready for occupancy."
According data from the Northwest Multiple Listing Service, the total sales of resale condominiums in downtown Seattle (NWMLS #701) was compressed by 14% to 370 units year-to-date as of November 2020, mostly due to the COVID-19 pandemic and resulting 'stay-home' orders that greatly affected real estate transactions in Q2-2020. However, median home prices still managed to increase by 4.4% over the same period to $647,450 while total days on market dropped 45% to just 49 days.
For more information on Spire Condominiums, please visit: https://www.spireseattle.com/
About Laconia Development (http://www.laconiallc.com/) – Bay Area-based Laconia Development LLC is a full-service real estate investment and development firm that envisions and builds high-rise and mid-rise residential communities and mixed-use environments in dynamic urban centers. By focusing on emotionally resonant architectural design, Laconia creates landmark developments that command attention and enhance existing neighborhoods – buildings that residents are proud to call home.
About Realogics Sotheby's International Realty (https://www.rsir.com/) - A leading global sales and marketing brokerage firm in the Pacific Northwest, RSIR is a boutique real estate firm of 300+ brokers service branches in downtown Seattle, Bainbridge Island, Kirkland, Madison Park and Bellevue. RSIR is a leading project marketing specialist currently representing more than $1.5 billion in new condominium developments planned throughout the Puget Sound region.
EDITORS NOTE: Property photography, development team headshots, bios and market statistics are available upon request.
*All numbers are estimates only. The monthly ownership cost includes only estimated costs for an average buyer in the greater Seattle market attributable to principal and interest payments on a conforming 10-year fixed-rate loan at currently available market rates, average property tax and insurance payments for a unit similar to the one described and excludes currently budgeted regular monthly HOA assessments, which are subject to change in accordance with the governing documents for the condominium. Seller and Agent make no representations or warranties, express or implied, with regard to the monthly ownership cost, potential monthly savings, or estimated future unit values.