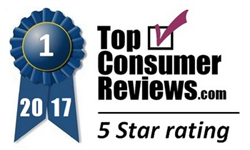 We're very happy to give Lacrosse Monkey our top ranking among Lacrosse Equipment stores in 2017.
Overland Park (PRWEB) August 29, 2017
TopConsumerReviews.com recently gave a best-in-class 5-star rating to Lacrosse Monkey, a leader among online Lacrosse Equipment retailers.
Goals, nets, helmets and sticks are necessities for new or seasoned lacrosse players. But many shoppers find that lacrosse equipment is hard to find at most sporting goods stores - especially if the player is looking for a hard-to-locate brand or size. For that reason, many avid lacrosse players shop online for Lacrosse gear. On the Internet they can often find finding exactly what's needed at prices that are often lower than local brick-and-mortar shops. While many online companies offer Lacrosse equipment, only a few provide customers an excellent shopping experience.
"For all of your lacrosse equipment needs, Lacrosse Monkey should be your go-to website," described Brian Dolezal of TopConsumerReviews.com, LLC. "If you can't find what you're looking for there, chances are you won't find it anywhere else. Their selection of all things lacrosse is truly impressive, and their prices on the most commonly-purchased items tend to be about 10% lower than their competitors. And, if you are unhappy with your order for any reason, you can return your lacrosse equipment for a full refund within 30 days. We're very happy to give Lacrosse Monkey our top ranking among Lacrosse Equipment stores in 2017."
To find out more about Lacrosse Savings and other retailers of Lacrosse Equipment, including reviews and comparison rankings, please visit the Lacrosse Equipment category of TopConsumerReviews.com at http://www.topconsumerreviews.com/lacrosse/.
About Lacrosse Monkey
Lacrosse Monkey is an online retailer of professional quality lacrosse equipment including protective gear, sticks, shafts, gloves, lacrosse-related apparel and accessories. With retail locations in California, Colorado, Massachusetts, New Jersey and New Hampshire, in addition to their robust online store, Lacrosse Monkey is dedicated to providing all things lacrosse at the best possible price.
About TopConsumerReviews.com
TopConsumerReviews.com, LLC is a leading provider of independent reviews and rankings of hundreds of consumer products and services. From Lacrosse Equipment to Sporting Goods and Sunglasses, TopConsumerReviews.com delivers in-depth product evaluations in order to make purchasing decisions easier.