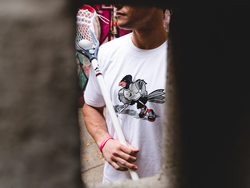 LONG ISLAND, N.Y. (PRWEB) November 13, 2019
Lacrosse Unlimited, the world's largest purveyor of lacrosse gear, and legendary streetwear brand Staple Pigeon are pleased to announce a collaboration, marrying "the fastest game on two feet" with the trend-setting world of street culture for the very first time. Set for a November 22nd launch date, the limited-edition collection will be available in all Lacrosse Unlimited locations across the country, as well as on lacrosseunlimited.com. The line will feature a handcrafted composite lacrosse handle, manufactured by industry leader TRUE Sports, and available in three colorways—black, white, or gray. The collection will also include exclusive designs on a hooded sweatshirt, as well as on short and long-sleeved T-shirts.
With a cult-like underground following, Staple Pigeon blends the savvy of a creative agency with the cutting-edge world of street culture for an inspired men's lifestyle collection. The brainchild of Jeff Staple, the brand is perhaps best known for its 2005 collaboration with Nike for the limited-edition SB "Pigeon" sneaker. Designed as a dedication to New York, Staple added a pigeon logo, paying homage to the city's ubiquitous bird. An overwhelming demand for the shoe marked a key moment in sneaker culture, and since then Staple Pigeon has been one of the most sought-after lifestyle brands.
As longtime fans of the brand, the Lacrosse Unlimited team came up with a Staple-inspired lacrosse pigeon and brought it to the attention of Jeff Staple, who was enthusiastically on-board. With their creative departments working closely together, the two companies formulated a series of fashion-forward designs that would stand out on the lacrosse field. "We couldn't be prouder to have the opportunity to work with Staple Pigeon and to have Jeff personally design the collection," says Lacrosse Unlimited founder, Joe DeSimone. "To have our Lacrosse Unlimited logo share the same space with the renowned Pigeon is iconic for us." Jeff Staple adds, "There is an inherent mutual respect between the athleticism of the lacrosse world and the creativeness of the street culture world; but rarely have the two actually collaborated and crossed paths. I hope this is the first of many more to come." This exciting product launch marks a pinnacle for Lacrosse Unlimited, which celebrates its 30th anniversary this year.
About Lacrosse Unlimited:
From its humble beginnings in Long Island, New York, Lacrosse Unlimited has been a go-to resource for all things in the popular sport. Launched in 1990 by Joe DeSimone and his family, the company has become the most innovative tastemaker in lacrosse, now with 43 stores across twelve states. Lacrosse Unlimited is renowned for its genuine passion for the sport, and for its relentless focus on providing an "always-custom" experience to its clients.
About Staple Pigeon
What started as a small, handmade T-shirt line by Jeff Ng (aka Jeff Staple) in 1997 has grown to be a world-renowned brand, inspired by street culture and design, and reflecting the gritty and never-ending energy that New Yorkers (and all urban dwellers) possess. The pigeon not only exists as a representation of New York but is also the influence behind Staple's extensive apparel range and collaborative items available across the world. A creative visionary whose work includes graphic, apparel, and footwear design, as well as brand marketing, Staple's reach encompasses many different landscapes around the globe, including fashion, music, sport, and art.