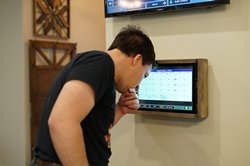 "It's like we took a step into a future that we never imagined was possible," said Sue Chaffin, mother of resident Matt Chaffin. "It's indescribable."
CINCINNATI (PRWEB) October 28, 2020
LADD, a non-profit agency empowering adults with developmental disabilities, announced a strategic partnership with GrandCare Systems to integrate touchscreen-based socialization, remote monitoring and telehealth into the lives of the people they support, throughout the greater Cincinnati area. GrandCare's touch interface and monitoring tools are just another way to support LADD's mission of facilitating independence for people with disabilities.
LADD spent over a year researching over 30 technology platforms to identify a partner with the most comprehensive, flexible and customizable remote monitoring solution. LADD is proud to announce that GrandCare has been selected for this partnership. Together, LADD and GrandCare will build out GrandCare's platform, originally designed for older adults, to specifically support the needs of people with developmental disabilities.
GrandCare is a large touchscreen hub with communication, cognitive assists and social engagement tools, including HIPAA compliant video chat options. Wireless telehealth and activity monitoring sensors can be added to alert support staff if something seems wrong.
LADD's newest community living project, the Heidt Smart Living Home, will empower four residents using GrandCare and other ground breaking innovations in accessibility, lighting and sensory control. This home is built from the ground up to enable the residents to live safer, more independent and happier lives.
"The smart home is a tremendous opportunity," said Tracy Jones, mother of resident Dan Jones. "23 years ago we never knew this was even going to be possible."
"It's like we took a step into a future that we never imagined was possible," said Sue Chaffin, mother of resident Matt Chaffin. "It's indescribable."
"We are honored to partner with an innovative and mission-driven organization," said Laura Mitchell, CEO of GrandCare. "With the added challenge of COVID and social distancing, it's more important than ever to have remote monitoring and socialization check-in tools to help keep everyone safe and independent."
GrandCare touchscreens will be positioned throughout the house for easy access and regularly reminding. The GrandCares will prompt residents with interactive schedules and to do lists, to help them remember what needs to be done, and let them check off items as they're completed. The systems will also include easy, secure video chat, rule-based alerts to support staff if something is amiss, a button to request assistance, and interaction with families through messaging, photos and video chats.
"The COVID-19 pandemic has challenged the LADD team to rethink how we safely deliver support in an age of social distancing and virtual connection," said Brian Hart, Chief Strategy Officer at LADD. "Thankfully, we have been working on this for a long time and our partnership with GrandCare enables us to provide a safe, scalable and affordable service model."
LADD and GrandCare celebrated the completion of the Heidt Smart Living Home at the end of September, with residents moving in shortly thereafter.
ABOUT LADD
LADD is a Cincinnati-based organization that empowers adults with developmental disabilities to live, work and connect. LADD is guided by the belief that all people have ability and value, and provides the dignity of adulthood through housing, health and wellness, day programs, employment, and advocacy. We envision a world where ALL can pursue one's best life. For more information, visit: https://laddinc.org/, or send an email to Communications Manager Whitney Siddiqi at wsiddiqi@laddinc.org.
ABOUT GRANDCARE SYSTEMS
GrandCare, on the market since 2005, is designed to reduce hospitalizations, manage health conditions and keep individuals more independent and connected to their loved ones. The heart of GrandCare is a large touchscreen appliance, which provides the individual with social communications, games, music, instructions, reminders and medication prompts. Optional telehealth & activity devices can wirelessly report information and remotely send email, text and phone alerts to caregivers if something seems amiss. No computer skills are needed for the resident. GrandCare is utilized by family caregivers, professional in-home care organizations, senior housing communities and disability providers. For more information, visit: http://www.grandcare.com, call 262-­338-6147, or send an email to: sales@grandcare.com.