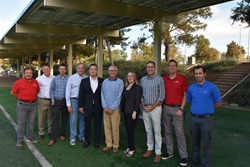 "You'll be able to see the difference from the moment the unit in powered on."
IRVINE, Calif. (PRWEB) November 08, 2018
Revel Energy, a local leader in providing sustainable energy solutions that include solar systems, energy storage and more, has completed a big local project at Cox Sports Park in Ladera Ranch, with the potential to greatly reduce overall utility costs for the park, while allowing the city to rise to meet the increasing expectation for sustainable energy.
A sustainable move with potentially big economic payoffs, taking Cox Sports Park solar made good economic sense for the city in the short term, and likely will for years to come. The recently installed system will end up saving the sports complex around $6,780,350 over the next 25 years, while saving nearly $64,000 dollars on electricity bills the very first year.
In total, the project took 8 months to complete, from beginning of discussions to the time the unit was switched on. During that time, Revel worked to fashion a custom energy strategy, including financing strategies to minimize upfront costs, and balance that with maximum profitability over time. After assessing 7 different potential areas for solar improvements, the Ladera Ranch board decided on the Cox Sports Park due to its economic feasibility and high return on investment.
The upgrade for Ladera Ranch comes at a time when state-wide initiatives will continue to expand. California has set the bold pace of achieving 100% clean energy by 2045 through the recently signed S.B. 100, signed by Governor Jerry Brown. It's likely that momentum for businesses, counties, and municipalities to reduce their dependency on fossil fuel-based energy will only build going forward.
Revel Energy's Chairman David King was pleased with the project's outcome, and confident that the system will be a great fit going forward. "Some people look at solar systems as if they demand a big upfront investment, with cost saving benefits that only come further down the road. The recent job in Ladera Ranch shows that, for most sites, the savings are seen in the very first year, and you'll be able to see the difference from the moment the unit in powered on."
About Revel Energy
Revel Energy was created to give commercial and industrial businesses access to the most robust and efficient energy technology on the market today, allowing them to see the bigger picture in their options for energy usage. Far more than a solar provider, Revel uses custom financing tools to help companies find and implement holistic, tailor-made energy solutions that enable them to free up capital that typically goes toward utilities costs, and apply it to growth.
For more information, visit http://www.revel-energy.com